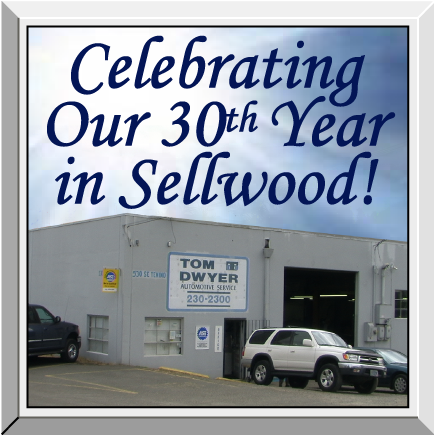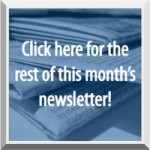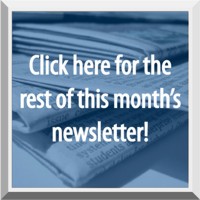 On October 7, 1987, Tom Dwyer wrote the first rent check for a tiny part of a building at SE 6th and Tenino, "at the East End of the Sellwood Bridge".  Things have changed a little since then… the Bridge is new, the rent has grown, we've taken over the whole building, and Tom Dwyer Automotive Services now serves thousands of clients and employs more than 20 people.  A huge THANK YOU for everyone who has made our success and growth possible over the past 30 years!  Here's a little look behind the scenes at what all of you helped all of us to create…
The early, early years
Tom started turning wrenches himself when he was young, and still thinks "good technicians are born with the proper skill set, and no amount of nurture will overcome nature." He attended Jesuit High School and then Lewis & Clark College, using his skill of "fixing things" to support his financial needs.  Tom spent his first several years working in small specialty shops and even briefly on the Oregon Coast doing mechanical repairs for boats.  "I was really impressed with the mechanical survey performed prior to selling larger pleasure craft. Knowledgeable marine technicians would go over the entire boat stem-to-stern (pun intended) to identify everything that wasn't exactly perfect, even down to burnt-out light bulb in the galley oven.  They'd build a list of what would be needed to fix every issue, prioritize the most critical ones, and then let the prospective buyer and owner work out a deal around the facts."  If that sounds familiar, there's a reason.  Tom later adapted that concept to become our Comprehensive Inspection, one of the most fundamental tools we use in the shop today.  "I hate menu driven service sales. Mileage-based menu service works for the first 30K maybe, but then it breaks down. Menus alone are not the way to take care of a vehicle. Physical inspection, service bulletins, service intervals and records management all together work much better."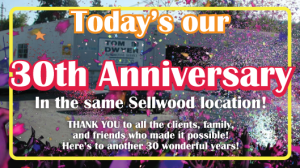 Beautiful as the Coast was, it wasn't Portland and Tom returned to work for his final employer.  This became a defining story in the philosophy of Tom Dwyer Automotive, because it was dismay with the industry and contempt for this employer in particular that eventually prompted Tom to go out on his own, "An older customer came into the shop complaining of a brake noise. The brake linings were fine but glazed from the gentle way this vehicle was driven.  All that was really necessary was cleaning and adjustment of the brake lining and maybe a bit of education for the driver to insure the noise wouldn't return.   It should have been a simple and inexpensive fix, but the shop owner saw an opportunity to sell an unnecessary and expensive full brake job instead.  I refused to do the work and he said he'd find someone else if I wouldn't.  I told this crook that my tool box has wheels for a reason! That, whether I knew it or not, was the start of my self-unemployment and I was out on my own."
Getting started for real
Tom was on his own, but that's not the same as being alone.  His story is about modest beginnings as well as the people who pitched in to help move it forward.  "I started out working from a friend's house, then from a rental home garage with a zoning variance.  It took several years to build clientele, but the word slowly spread.  As the client list grew my work space seemed to shrink, so I was forced to grow or die."  The search for a permanent space started on the West Side of the Willamette so Tom could be convenient for the Lewis & Clark folks Lee Weinstein had been referring, but no suitable location popped up.  "Luckily my friend Marla Resnick (now my wife) found a Sellwood industrial building willing to divide some space.  I wrote my first check to Dave Stoner (Stoner the owner) on October 7, 1987, and up went the painted wall sign."
Today we occupy the whole building, but on Day One it was just a small part of the front end.  It wasn't a business-ready part either, so the call went out to friends to help move in.  Greg Creitz, Tom's friend for years, was there to help paint, wire and ready the space.  Robert Kempton (the first employee) and Greg Creitz were just two of the many people who helped set up the first 4000 sq. ft. shop area.
The shop's first records were on paper but Tom recognized the value of information technology from early on.  In 1990 He made sure Tom Dwyer Automotive Services was one of the first networked shops in the area with 8 PCs on a peer-to-peer coaxial network.  Eric Dwyer (Tom's nephew) has been our network guru for over 20 years and while other shops were still scribbling on carbon paper our clients were already benefitting from complete vehicle repair data, service records and recommendations at our fingertips.   And in 1999, only 8 years after the first-ever website and when there were still less than 10,000 websites on the planet, www.TomDwyer.com went live on the InterTubes.  (Click here for a look at the paleolithic TomDwyer.com; the internet site "Wayback Machine" keeps captures of almost every site on the Web back to about 1996.)  Today our website is a full resource on all things automotive as well as politics, humor, and other things that defy categorization.
Building on the fundamentals
It's amazing what you can do working only half days… it doesn't matter whether you work the first 12 hours or the second every day. "We had all the work we could handle, and it was all work that clients actually needed.  If a shop does an honest, professional job there is always lots of needed work to be found… you shouldn't have to go making things up! And we were growing as people told their friends about us."  It was only about 5 years before Tom Dwyer Automotive was ready to expand to 8 repair bays and bring Bob Hume into the Service Advisor position he would occupy for many years. 1993 saw another expansion, this time to the full building and 18 repair bays, and soon after came the addition of Ken Bartz and then Drew Pearson.
Tom was learning as he went in business, but he was also finding it wasn't necessary to compromise his ideals to keep things running.  For instance, 'up-sell' in the repair industry typically means getting people in on a cheap offer and then convincing them to buy additional services you offer that they may not need or are may not be their real priorities. "We do sell clients needed services that might be beyond what they think they need, but done right that is our job." We keep Safety, Break-down, and then Maintenance as our priorities in all work we recommend. Often when we're working to address a client's initial concerns we'll see other issues either documented in our records or newly found from physical inspection that may be as important, or even more important than the issue that brought the client in. Bringing that new issue to their attention is up-selling, but clients need and want to know about things like that."  It's one of the benefits of working with a full-service shop that's caring for your entire vehicle as opposed to a specialty shop that's just trying to sell more of what they sell.  "We up-sell… every business does; but we do it with integrity and professionalism above the industry standard.  Our clients seem to appreciate it."
Tom's whole business model is built around integrity, accountability and providing impeccable full service based on our clients' actual needs. "I don't want to feel like we just sell random stuff without concern to our clients' bigger picture. We strive to run the business as an actual service to our clients. Many of our practices and policies have been tailored to make us exceptional in our industry and ensure we are part of a community."
"I wish I could get all our clients to understand what makes us different than other shops"
A good example of what makes us different is the way our Service Advisors and Technicians are paid.  In the auto industry Service Advisors are usually paid on commission and Technicians are usually paid Flat-rate.  The drawback in both systems is that if the Advisor or Technician doesn't sell you something they don't get a paycheck.  "I hate flat-rate", says Tom.  "It corrupts the process, creates perverse incentives, and damages the outcomes for the clients and shop".  Tom's never had commissioned Advisors to avoid the obvious conflicts.  Flat Rate for Technicians similarly pervert the goal of effective care.  Technicians on Flat-rate are paid by the individual repair operation (like replacing a failed alternator) so the faster they do it the more they're getting per-hour.  There's no bonus for quality and no incentive to even wonder if there are other, more important systems failing on other parts of the vehicle… it's just a question of how fast the Tech can slap things together and ship them out.  Our Technicians are paid by the hour for the time they spend on vehicle, incentivizing care, craftsmanship, and attention to your vehicle as a whole.  You can see how Commission and Flat Rate work for a Shop's bottom line and against auto repair in your interest, so you know why you'll never see either at Tom Dwyer Automotive Services.
Our integrity matters.  Yours does too!
Tom's fanatic dedication to integrity even extends to our clients, and the way they spread the word to their friends.  Like most businesses, we want to encourage those referrals and thank you when they happen.  Most auto shops will offer a discount on future work as a reward (which has the added benefit to the Shop of bringing you back in for more work) or, slightly better, a coupon for a free oil change.  We've done both over the years, but neither was good enough for Tom.  "I started to get uncomfortable about clients giving recommendations if they were getting something in return, and wondered if that might not be coloring their referrals, even subconsciously."  But what to do?  "I wanted to come up with something that still said 'thank you' but wasn't a direct benefit to the client."  The answer was our Referral Reward Program, where we make a donation to the non-profit group of your choice for every new client you send us.  Now we can still say 'thanks' while leaving everyone's conscience free to spread the word!  Our Referral Reward Program is about to pass $20,000 in donations since it started in 2014, and it may be a particularly good time to check in on it this month… we're asking for YOUR vote for our next Quarterly winner in the program!
Neighbors help neighbors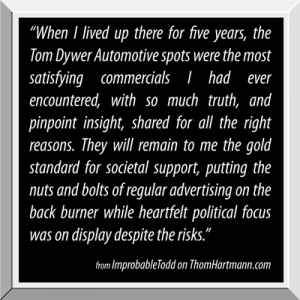 Tom's idea of what a business should be extends far beyond the building walls.  He believes a business shouldn't just be a resident, but a neighbor… an active part of the community it's in.  That's led us to support local schools like St. Agatha and Llewellyn, recreation groups like Sellwood Baseball, neighborhood events like the Sellwood Park Summer Concerts, cultural groups like Phame Academy, and much more.
Along with supporting individual groups like these, Tom's belief in advocating for big-picture societal needs and issues led to his support of Progressive talk radio when it debuted in Portland in 2004.  For the 8 years KPOJ was on the air, Tom's ads, typically, were unlike anything else on the airwaves.  If you remember the "good old days" of KPOJ then you might enjoy a walk down memory lane with some of those old ads, posted here.  You might also enjoy the video tracks on many of them, created by client and friend-of-the-shop Hans Michael.
The KPOJ years introduced us to hundreds of new clients and friends.  It also raised the profile of the shop with political, community, environmental, and educational groups, leading to the reputation of a "politically progressive shop" we still enjoy today.  Tom's outspokenness on so many issues has caused some pushback, but he makes sure it never interferes with the impeccable care our clients expect.  "I think politics does play a role in business but not a primary one.  I don't push or preach politics and many clients don't even notice or care, and that's as it should be. No company should offer products, services, or employment based on a political stance. Our shop isn't a political indoctrination facility for our employees or our clients; we don't hire people based on their t-shirts or decide which cars to service based on their bumper stickers."
But time and again, when we reach out to community groups doing good work they seem to be on the Left end of the spectrum.  We've worked with Heath Care for All Oregon on single payer health care, with 350.org on climate change, and even the Post Office as Congress tried to gut them.  We've advocated for Progressive candidates like Jefferson Smith, Steve Novick, and loudly and recently for Bernie Sanders.  We've promoted Progressive voices like Carl Wolfson, Ed Schultz, and of course, our favorite Thom Hartmann.  In the belief that unbiased, uncensored, in-depth information leads us all to make better decisions we've been strong supporters of educational groups like the Illahee Lecture Series and especially XRAY.FM and KBOO radio, two of Portland's leading independent media outlets.
Our Carbon Neutral Program (CNP) may be the best example of a Dwyer program combining all these points.  The CNP reaches far, far beyond our building walls, it addresses a big-picture societal need, and it's another example of a slightly Left-ish bent to our outreach.  Tom started the CNP to raise awareness of and to take a small step toward addressing Climate Change, a worldwide issue but unfortunately a liberal one in the US.  Members of our CNP buy a yearly membership that provides clean-energy carbon offsets for the carbon production of their vehicle.  They get the benefit of carbon-free driving, but Tom wanted to sweeten the pot to drive even more people to carbon freedom so he also added a 10% shop labor discount for the length of their membership.  It's a win-win situation that's been very popular and had a real effect… since Tom started the CNP in 2007 our members have offset 1,821,900 pounds of carbon from our environment!
Keeping up with changing times…
We're constantly updating tools and scanners to keep up with current technology.  Computer tools are just as critical for today's vehicles as a good set of socket wrenches; for example, we recently had to upgrade to an $8500 computer scan tool and $2500 software just to be able to talk to some of the 2018 model vehicles.  A little while back we purchased a thermal imaging tool; cutting-edge technology that precisely locates heat variations in engines and leads to quicker, more precise diagnosis of problems.  A mechanic was once able to get by applying general mechanical knowledge to new vehicles, but today's pace of technological change means our Technicians face ongoing education to stay up-to-date.  The advent of electric and even driverless cars will mean even more focused training on the new systems they bring, but we're already heading down that path…  ASE Master Technician Chris Waterbury was one of the first Techs in the country to earn his L3 Hybrid/Electric certification, and we have 3 more Techs in line to be certified soon.  "One of the many advantages of electric vehicles is they have fewer systems to fail than gasoline vehicles" said Tom, "but people shouldn't think that means there's nothing to fail at all.  There are suspension, brakes, electrical systems and more that can and will need to be fixed.  We're big advocates of electric vehicles, and when they start taking over we'll be ready to help."
…and with a changing neighborhood
The equipment upgrades are critical, but so are upgrades to our personal client service.  After letting it fade for decades we just repainted the front shop sign so it's looking good now that it can be seen from Tacoma Street.  We've replaced the lobby chairs based on many, many suggestions from our Comment Cards, but we've also added a dedicated waiting room featuring PDX Airport carpet, VERY comfortable chairs, a work area so your waiting time won't be wasted time, and dedicated heating and air to replace the somewhat "iffy" climate control in the lobby.  And keep an eye out for a redesign of our website, coming soon!

As we change inside, Sellwood is changing around us.  Construction first became a significant issue for us when the Sellwood Bridge Replacement started in late 2011.  We hoped the problems might be over when the Bridge was finished but instead we're facing 119 apartments going up next door, 25 more coming in up the street, condos planned for the empty lot across from our building, and a business/apartment mix rumored to replace the marina and strip club across Tacoma.     We've already lost much of our parking area and may lose more by the time it's all complete.  Our longtime clients weren't deterred during the Bridge project and we know their loyalty will see us through this construction as well.  If you encounter a construction problem on your way to the shop, please be sure to tell your Service Advisor when you pick up your vehicle… Tom's made sure they have options to compensate you for your inconvenience.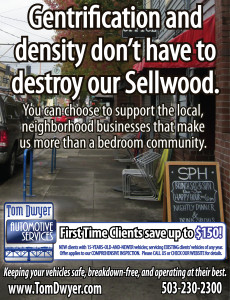 The changes in Sellwood bring up a critically important issue, both for us and everyone that calls Sellwood home.  The Sellwood we love is a tree-shaded paradise of homes and parks, but neighborhoods need close-by, available businesses and services just as much as everything else.  Unrestrained building is forcing out many of the local businesses Sellwood depends on and once these businesses leave it may be impossible to bring them back.  It makes little sense to build high-occupancy housing assuming people won't need cars, but then deprive the neighborhood of the products and services they need within walking distance!  This building boom could turn Sellwood into little more than a "bedroom community" for Portland, but it doesn't have to… Sellwood neighbors can CHOOSE to SUPPORT THEIR LOCAL BUSINESSES!  Almost any product or service is available within a mile of Sellwood, so explore your LOCAL options, pick one, and CHOOSE to go give them a try!  Tom Dwyer Automotive and the other local businesses of our neighbors, families, and friends want to be here for Sellwood's future, but ALL our local businesses depend on local patronage.  That patronage has never been more important than now, as change and growth squeeze us all.  We don't have to lose what makes our neighborhood great, but keeping it demands our conscious choice and effort.
What's on the horizon?
Conventional wisdom says when you're starting a business you should pick a successful model and copy it, but Tom's unique basic philosophy meant he never really had another example to copy.  Instead he looked around after about 10 years and realized his different thinking had resulted in a different kind of company.  "I'm very proud that we've grown large enough to provide the highest quality service but stayed small enough to remember what personal service means."  In an industry that has pushed toward specialization and profit-at-all-costs pressure sales, Tom has prospered by treating each vehicle as a unified whole and providing coherent, prioritized advice in our clients' interests.  The two ideas are critically linked… "If you're not offering FULL vehicle maintenance, if you're only looking for things your shop stocks and can sell, you CAN'T do truly comprehensive auto care and you CAN'T decide fairly between competing priorities."  Our clients seem to understand and appreciate this approach, as shown in our reviews on Yelp, Google, AngiesList, NextDoor, FaceBook, or the almost 18,000 Post Service Comment Cards we've collected through the years.  No matter what else changes here at the shop, you can count on these basics remaining the same.
One of the most common comments we get on our Comment Cards is "Please build another shop in my neighborhood!"  While we deeply appreciate the compliment that implies, Tom's answer has always been "no".  Even recently, when construction and traffic woes forced him to take a very hard look at the possibility of moving, the answer was still no.  30 years ago Tom chose this small, quiet neighborhood to call home and to build a trusted resource for all Portland.   Both the shop and the neighborhood have grown more than he could ever have imagined, but the commitment has remained the same.  Trust, integrity, professionalism, respect, craftsmanship… everything you've come to expect from the little shop "at the east end of the Sellwood Bridge."  Thank you so much for making the first 30 years possible, but what's next for Tom Dwyer Automotive Services?  Another 30 years of "keeping your vehicles safe, breakdown-free, and operating at their best!"
Thanks for making a great 30 years!

Digging Deeper
District Spotlight- Sellwood/Moreland, Venture Portland, Nov 2017
Sellwood's Disappearing History, Greetings from Portland website
Historic Sellwood, photos on PDXHistory.com
Before the Bridge: The Town of Sellwood and the Spokane Street Ferry, Sellwood Bridge Project Website
A Brief History of Sellwood and Westmoreland, by Eileen Fitzsimons on the Sellwood/Moreland Business Association Website
Sellwood, Portland, Oregon Wikipedia page
Southeast History: Sellwood in the Roaring 1920's by Dana Beck in The Sellwood Bee, March 2017
Sellwood and Westmoreland historical secrets revealed, by Dana Beck in The Sellwood Bee, Nov 2017
Historical Photos – Eastmoreland & Westmoreland area, (1906-1950's) Portland Parks & Rec Website
Sellwood home reflects history of two families, by Eileen Fitzsimons in The Sellwood Bee, July 2016
Some of our favorite (and most valuable) articles from our newsletter and website
Should Business and Politics mix?
Salary vs. Commission in the Auto-Repair world
Don't Eat Off This Menu!  (The drawbacks of menu-driven auto service)
Tips on finding a quality shop