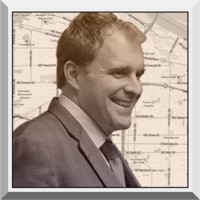 The Oregon State Legislature was running late, which meant District 47 Representative Jefferson Smith was running late too.   Smith is one of the three leading candidates for the Portland Mayoral election in May, but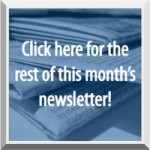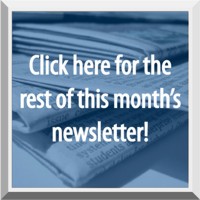 even after a long day at the Legislature and a long drive back from Salem, he was still ready for the interview he had generously promised us.  It was nearly dark when we finally sat down at the SE Holgate Street campaign headquarters, but he was still full of energy.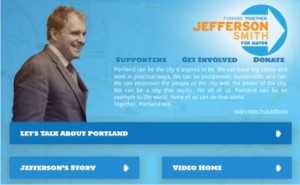 "How's the campaign going?  You're supposed to say it's going GREAT!  But the answer is really 'who knows'?"  Judging from the interest, it's actually going pretty well.  The Smith campaign has over 900 volunteers and 1500 donors, and has garnered endorsements from AFSCME 189, BikeWalkVote, a string of State Senators and Representatives, active transportation advocates, and over 200 individuals on his website.  "We have a very diverse demographic.  We have one of the oldest staffers in any campaign, and maybe one of the youngest too."  This broad base is exactly what Smith is trying to build.  "If we do it right, we'll build a crew of volunteers and supporters that reflects the city."
Jefferson Smith's District is mostly East Portland, bounded by I-205, 147th, I-84, and Division St, with a little bump up to the airport industrial area.  Why would he leave a safe job as Oregon State Rep to run for Mayor?  "It didn't occur to me when I ran for Rep that I would run for Mayor one day.  But, while working on state issues I found my constituent's issues weren't statewide issues.  They were talking about unpaved roads (59 miles just in east Portland), safety on Max, gangs, and a better economic development plan than 'strip clubs and strip malls'.  I found that these things are hard to deal with on a state level, and to make a difference in their lives I
needed to work at the local, city level."
Smith wants to see a smarter economic growth plan with greater equity, a greater city role in education, careful oversight of our transportation expenditures, and improvements to the way the city works. Throughout our interview, he talked a lot about infrastructure, whether buildings, roads, web, or especially people.  Why that emphasis?  Why not pick a couple general initiatives to support? "Because the basics matter. Basic services.  Underpinnings.  Foundations.  Concentrate on those, and everything else follows."
Asked to name the biggest current downside to the way the city currently works, Jefferson had a big-picture answer. "Hopefully it's not a problem-solution situation, but a question of overall system improvement."  He says that in a time of budget cutting and tightening, we need to reduce management overhead and target frontline services for residents.  Every big system needs constant improvement, and Smith believes that small changes to the way services are delivered can mean big differences to efficiency, effectiveness, and the way the City is perceived to its citizens.  One example of this is his idea to have a THREE digit number, like 311, that would tie in all city services instead of the current 7 digit number that no one knows.  "This three digit number would be a one-stop shop, like triage for city services.  The goal would be 'What can we do to help you?  What non-city services can we direct you to?  Here is the person who can help you RIGHT NOW.'  This directorial ability is a SKILL that can be learned and sharpened.  New York City has a similar system, and it dropped transactional costs 20% (Transactional cost is the people/cost involved in each city encounter).   Increasing government transparency works with better service delivery to increase people's satisfaction with city government.  I would expand budget mapping, actually applying expenditures to a geographical map, so people can see exactly where their money is being spent".
An overriding message to Smith's philosophy aside from strong delivery of basic services seems to be his reliance on the power of Portland's people rather than specific policy initiatives, a philosophy that showed again when it came to our neighborhoods.  "The Office of Neighborhood Involvement has been run similarly for the last 40 years.  As our population grows, becomes more diverse and technological, there's a risk of deprioritizing the Office of Neighborhood Involvement.  The strength of our city has always been its people.  We have the waterfront park because our people wanted that instead of the Westside freeway.  We could increase involvement by rotating council meetings through the various neighborhoods, or engaging development outreach with communities of color to do better, deeper work.  Chicago has experimented with more citizen participation in budgeting.  We increase involvement when we increase accessibility, accountability, and responsibility."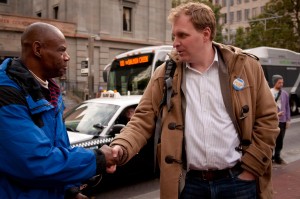 This reliance on Portland's people is ideally suited to Portland's weak Mayor system of city government.   "The Mayor is only successful to the degree to which they empower the people, including other city councilors, to accomplish their best objectives."  It would also work well in interactions with Metro, the Portland area's unique regional government, where he would take a very active role.  "Regional planning is one of the most important realities of our city", he said.  "Detroit is a ghost town; it had no planning.  It was too easy for surrounding suburbs to offer benefits for new businesses that moved in, but they had no incentive to make sure the core of the city worked.  And sure enough, that's what happened… the core of the city didn't work!  One of the things we have to do is reestablish the case that we're all in this together, and that for the region to be successful PORTLAND must be successful".
Leveraging Portland's people may indeed be an important priority, but in today's economic environment voters are concerned with what politicians will do for the economy.  One of Smith's initiatives in this area is his emphasis on Economic Gardening which differs from classic Economic Development in its emphasis on cultivating businesses that already exist locally rather than hunting for larger, established businesses to bring to the area.  "Detroit is realizing it doesn't make cars… it bends metal, paints metal, welds things, assembles things.  They're finding they can apply these skills to new sectors.  That same way of thinking can help us here.  Portland and Vancouver partnered to help a small company called Keyscaper that makes painted keyboards.  They moved from painting "Grandma" on a keyboard to licensing partnerships with characters and sports teams, producing a higher end product with a much larger markets.  They went from a couple thousand dollars a month to a hundred thousand dollars a month, and added 12-13 new employees.  It didn't require some big tax break, oil subsidy, or deregulatory move.  The total cost to the taxpayer was about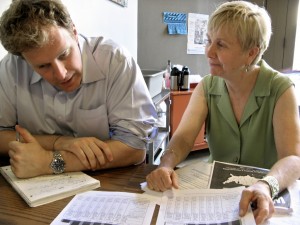 $2,000.   Economic gardening keeps our money at home, and deposits out of national banks into local banks".
Jefferson's reliance on people came out again in his thoughts on community policing.  He believes whoever heads the police bureau (one of the job duties assigned by the Mayor to the other city councilors) must be committed to community policing.  Just like any other city employee, the job of the police is to solve problems.  Not merely punish crime or enforce the law, but to solve the everyday problems of everyday citizens, which might or might not include arrests.  "Cops are only effective when they get out of their cars and into the community.  I don't want the feeling of law enforcement on one side of the table and the citizens on the other, but of everyone solving common problems".
The idea of police as community helpers led into questions about the Occupy movement, which Jefferson said is "the most important protest in my lifetime.  Nothing has done more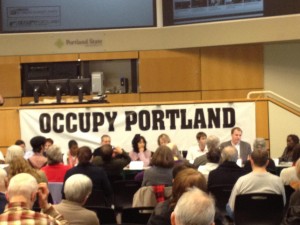 to elevate awareness of growing income inequities than Occupy."  He is one of the only mayoral candidates that did not back an immediate move to evict the protestors.  "It wasn't because I wanted folks violating park codes, but if we had been the first major city to evict, even before Oakland, I'm not sure our result would have been much better".  Again, Jefferson's view of Portland's people and energy as a resource rather than an obstacle colors his approach.  Instead of setting arbitrary time limits, he says he would have set conduct benchmarks.  "I would have told them, look, I support the 1st amendment, but we can't have cops pushed in front of busses.  I would have looked for positive directions to use and channel that energy".  He pointed to some of the really good things that have come out of Occupy, like Move Your Money, help with foreclosures, Saturday market for nonprofits, and 99 Actions for the 99 Percent.  Opening these avenues to the Occupiers and supporting their efforts could make a huge difference.  "I'm not saying it would work any better than what the Mayor did, but it would surely work better than a use of force from the outset".
One major issue that was hurting his campaign when we talked was the Oregon State Legislature rule that forbids sitting Legislators from taking contributions for other political offices while the Legislature is in session.  (You may be glad to know that the session is over now, so that rule no longer applies.)  However, Jefferson's response when faced with this rule is interesting.  "I basically had two alternatives.  I could have resigned to run for Mayor, but I wanted to finish the job I started.  The other was to use the wiggle room in the ethics rules to allow donations, but as soon as you're talking about 'wiggle room in the ethics rules' you're in trouble.  So I decided to just live within the rules and not take donations."  Asked how someone could help without causing problems, he quickly responded "Give volunteers! Give your time!  Get involved!  Facebook with your friends, talk with somebody.  This campaign is driven by people, and we need people to be successful".  (Editor's note, 3/9/12-  The Oregon Legislature is adjourned, and the limitations on Jefferson's fundraising have been lifted.  He's a good Progressive voice that could use your help in this election.  If you want to give a couple bucks, the link at left will make it easy and secure.  And, you won't be added to a mailing list.)
By now it was completely dark outside, and we were both ready to call it quits.  But, when asked to sum up his thoughts on the campaign, Jefferson once again rose to the task.  "I feel like we're trying to build a mini-movement campaign, one that reaches out and gets people involved in what we're doing, then they reach out in turn and the movement grows and grows.  The City of Portland is will not be great because of the Mayor; it will be great because of the great people in the city.  That puts a greater duty on the people of this city.  They can't just watch what happens.  They have to decide what's going to happen, and then we have to work to make it happen.  This city should be one of the greatest places to live in the world.  It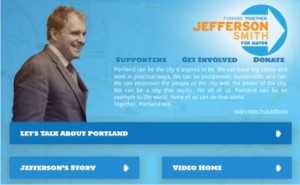 should be a city that works for all the people. And, by working on some of those hard to do basic things, it can set an example to other cities about what a place can be like.   I can't do that alone.  But we can do that together, and I can help us".