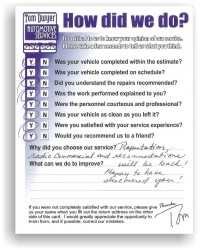 After each vehicle is serviced, we leave a pre-stamped comment card in the front seat.  Good or bad, we want to get each client's opinions of our service while it's fresh in their mind. Fortunately the answers have mostly been good, as you can see below.
(Updated 8/2/2017)
Total response cards in count- 17,521
Question

Yes

No

%

Was your vehicle

completed within estimate?

17317

204

98.84%

Was your vehicle

completed on schedule?

17270

251

98.57%

Did you understand the repairs recommended?
17467
54
99.69%
Was the work performed explained to you?
17472
49
99.72%
Were the personnel courteous and professional?
17502
19
99.89%
Was your vehicle as clean as you left it?
17434
87
99.50%
Were you satisfied with your service experience?
17474
47
99.73%
Would you recommend us to a friend?
17489
32
99.82%
Why did you choose (or stay with) our service?
"You have excellent ratings, you speak simply, and you share important information."
"Expectations exceeded as always.  Thanks!"
"Because it is the best-  I travel from Troutdale for your service.  Thank you!"
"My car is under warranty but if it needs repair I will bring it her instead of a dealership.  I trust service, techs, and integrity of the shop!"
"The work was done more quickly than expected and under the quoted cost."
"My mother recommended you!"
"Your representative recommended I consider trading in my 2012 Nissan Juke because it was having too many problems.  I TOOK HIS ADVICE!"
"Trust- You folks are an an alternative universe of light compared to the Evil Empire of many Auto Repair shops!"
"I'm never treated as if I'm a 'stupid woman' that can't understand cars"
"I was very pleased that Josh was able to show me where my coolant overflow bottle was so that I won't let it run our of fluid again.  Thanks so much for great service!"
"Good, trustworthy service and I like supporting local business"
The card at left was hand made by client Smith E.  No words, but none needed.  Thanks Smith!
"You provide honest estimates and needed repairs only"
"I continue to choose Tom Dwyer Automotive because I have always been complettely, 100% satisfied with your service in every way.  When I bring my car to you, I know it's in the best possible hands- and the customer service staff members (behind the desk) are always so cordial, friendly, and nice."
"You are the only shop we have used during our family's 20 years in Portland."
"I asked that you treat me like I was your mother, and I think you always have."
"We needed a major repair (front axles) and trusted you to do it well.  Price was evan a little less than the estimate we received."
"You appear to justifiably deserve your 5-star rating!"
"Thanks for your Referral program.  It's a "win-win" situation!"
URGR8!
"I knew you had a case with crystals in it"
"I feel like I have a fleet of sons looking after my best automotive needs, and I appreciate the personal touch!"
"Having my car maintained by Dwyer is a very positive experience- I much prefer it to the dealership."
"Thanks for the painted door.  It looks nice!" (If that doesn't sound like much of a comment, then read this article.  We actually read your comments, and take action on your suggestions!)
"When we moved to Portland we asked around for a trusted mechanic and five different people recommended you!"
"Because Tom Dwyer don't fix what ain't broke!"
"Because you FEEL THE BERN!"
"Your mechanics actually found why my old Saturn is running rough.  Two other shops, including a Chevy dealer, did not do that!"
"While it turned out my car may need major work, I'd been informed it was coming.  So even though the work was needed sooner than expected, it was not a huge surprise.  I'd been planning for the expense.  Thanks!"
"You communicate well, are honest, and give terrific service at a reasonable price.  Keep it up!"
"Because your advice is sound, your mechanics are good, and your customer service is unmatched in my 40 years of car ownership!"
"I'd like to thank the counter staff who gave me an article to read about buying a used car and advice on how to start looking."  (Glad to do it!  It's just of the many articles we've written on various aspects of auto ownership, all available on our website.) 
"By now you know our car better than we do.  You are our kind of people, the kindness, humor, integrity, generosity, warmth, intelligence (and overall cuteness) will keep us coming back every time, every car.  I always come away from your shop loving America!"
"All your workers have a capacity for expert work, and you do it WITH HEART!  I deeply appreciate knowing my car and I will be well taken care of."
"I used you years ago, but moved too far away.  Now I'm retired, I can spare time for the commute- and I like where you advertise!  This is VERY important to me!"
"Social and class conscious business run in the manner that complements and honors the work, the worker, and the customer."
"I come all the way from Albany to see you.  I think that says a lot."
"Thank you for finding the tiny foreign body in that tire that others missed!"
"You did it.  You gave an estimate for replacing front lower control arms and bushings.  It was done for slightly less.  Thank you!"
"I count on your guidance to maintain a reliable car.  I appreciate the practical pros/cons of when to repair something."
"First visit was great!  You're my new mechanic!"
"I so appreciate everyone's kindness and care, in addition to having a top performing vehicle."
"My old mechanic in Bellvue, WA, Greg's Auto, recommended Tom Dwyer when I moved to Portland."
"Internet and online reviews, and I agree.  Well done!"
"Recommended by 5 friends!"
"Overheard Tom give his philosophy of doing business to some radio people while at Schondecken's Coffee"
"Thanks for always having our car done earlier than you say it will be finished!"
"You do a good job when you say you're going to do it.  It's stress-free auto care.  I love it!"
"The best service I've experienced anywhere on the planet!"
"My car broke down and my Mom is a customer of yours.  Easy decision!"
"Quality, reliability, trustworthy, working-class proud, and again, trustworthy.  There is no other business I trust as much as Tom Dwyer."
"I like your commitment to living-wage jobs, your integrity, and excellent workmanship."
"Because I trust Tom and his employees, and that is hard to come by"
"Recent repair was good example of how well your company stands behind your service work"
"We met someone at a Thom Hartmann event and decided it was worth driving from Troutdale to have a trusted mechanic look after our car.  We have not been disappointed!  You exceeded our expectations and your shop vibrates with integrity!  It was a great experience and I feel safer in my car as a result."
"I inherited you from my son who has trusted you for 15 years.  Now I know why!"
"Personal approach to automotive repair.  I don't feel like a number."
"Have a bicycle on-site to offer in place of a courtesy car ride." (We sort of have a solution to this… we've partnered with Bike Commuter to have one of their rental bikes available for our clients.  It won't be replacing our Courtesy Shuttle, but it's coming summer 2014)
"I've had great success with smaller, non-dealership auto shops."
"You are wonderful.  This time you probably saved me from an accident or breakdown on the way to California.  Thank you!"
"You do good, honest work, and you have NOT left any loose lug nuts!"
"Way back when, it was the convenience.  After 17+ years, it's your integrity, skill, and timeliness.  (And convenience is still nice!)"
(To be honest, this particular response isn't from a comment card… Kathleen M. chose to write her own thank-you letter to us, and we're very proud of her comments)  "Dear Mr. Dwyer-  I commend you on conducting your business in a very professional manner.  I've received consistently good service for several years.  Your staff is courteous, friendly, and knowledgeable.  I appreciate dealing with an automotive service which provides fair, honest, and ethical treatment of its clientele.  Thank you!"
"We always feel like the work is good and the price is fair."
"Reliable, easy to make an appointment, easy phone number to remember and a human answers!"
"Reviews on AngiesList and Yelp.  They were spot on… you guys rock!"
"I trust the staff completely and feel very secure knowing you are there"
"Initially I thought it sounded too good to be true, so I decided to try it out for myself.  SOLD for many years!"
"Recommended by my previous mechanic who retired"
"Too many suggestive sales at Jiffy Lube"
"Recommended by Marque Motors, and you laughed at my jokes"
"It was worth the drive from North Portland.  I'll be back!"
"Longtime customer-  I trust your recommendations.  Great service!"
"I always leave your shop feeling confident I was not sold anything I didn't really need, even when I spend close to $800."
"Very much appreciate the standard protocol of multipoint inspections AFTER the work is completed!"
"REALLY really appreciated you taking my car to the dealer for me for factory recall issue.  That was huge and creates loyalty big time!"
"Our whole family only uses your service for our vehicles."
"I believe you are very ethical by telling me I didn't need something repaired that didn't need it.  I would have never known!"
"I'm glad you take care of my OLD car so well!" (Thanks, Paula.  Although we don't start NEW relationships with vehicles older than 15 years, we continue servicing our EXISTING clients' older vehicles as long as it makes economic sense for them.)
"You don't SELL me stuff, you educate me!"
"TRUST, proven by my years of experience with you"
"When Drew called to tell me I needed $1000 worth of repairs, of course I was not happy but I knew that I could trust your company.  Thank you for that!"
"I sing with the Bach Cantata Choir, and last year you featured us on one of your calendar pages."
"Because you are unfailingly helpful, good-humored, and trustworthy."
"I like having a tech rep explain the repairs and their priorities for safety and expense."
"I asked other Subaru owners and 2 out of 5 said 'Dwyer'"
"Your shop verified my opinion that service recommended by the dealership was unneeded.  Thanks for your help!"
"Because you keep my car running spectacularly in its 14th year!"
"I feel that you tell me what I need to do on my car and not just sell me on what I 'might' need like the dealers."
"Your team is honest, professional, and courteous.  They do an awesome job on my car and they don't make me feel like an idiot when I don't understand something."
"What I've always valued at Dwyer is good workmanship and clear guidance on keeping my car working reliably."
"Your team is awesome from front desk staff to shuttle service driver."
"I'm a leftie promoting local businesses."
"Because you're the best!  And dealerships are a bunch of crooks!"
"Thought the Yelp reviews were too good to be true but you definitely exceeded my expectations.  Excellent customer service and the shuttle made it all very convenient.  Never had this kind of experience with a car repair place!"
"Cuz I'd be nuts if I didn't!"
"Have been a loyal customer for the 10 years I lived in Portland.  Don't remember why I came in, but I just know why I stayed."
"We appreciated the honesty and recommendation NOT to fix our car!  We'll be back in with our next car."
"We heard that you were the best in Portland, and we've not been disappointed!"
"It's like having a happy new car.  So much better than my last mechanic shop!"
"Your 5-star rating on both AngiesList and Yelp is impressive!"
"The actual cost came in well under the estimated cost!  Great!"
"I wouldn't have thought a $1000 repair would have elicited PRAISE from a customer!"
"I especially liked the VERY qualified person at the counter explaining all that was and was not done to my car."
"Thank you guys again for helping me find the path to the park where my dog, Sandy, could play."
"My personal thanks for supporting Carl In The Morning!"
"Disappointed with dealership service, found you online."
"The rock case, the politics, and the service."
"Your service is always professional, thorough, helpful, and done to perfection.  It instills confidence."
"Because of Obama party in 2008."
"Even with the potentially scary repairs you made the nervousness dissipate."
"I'm from a family of mechanics including myself, and I know good service when I see it.  Thanks!"
"Excellent value for the money"
"Awesome ratings on Yelp, etc.  I had an amazing experience.  I will definitely be back for routine maintenance and repairs.  Great service!"
"Have been a client for over 20 years.  Your support of Phame Academy is much appreciated!"
"Because you told me my vehicle wasn't worth repairing."
"This experience was one of the first I've ever had where the details were explained to me in depth.  I never felt rushed on the phone.  Continue to talk to your customers like this!"
"Because this is where Rachael Maddow would take her car if she lived in Portland."
"I loved the reading material in the waiting room!"
"You're the only mechanics I've encountered during my 20 years in Portland that I trust."
"At other shops, I probably would feel like I was taken advantage of.  There was more wrong than what I brought it in for.  But past experience has taught me your shop is honest.  Don't change!"
"…consistently impressed with your personnel, work quality, and generous customer courtesy."
"Don't figure something really has to be done just cuz a vehicle reaches a certain mileage."
"One of the installed parts was faulty, and failed after picking up my truck.  TDASI handled situation with utmost customer service."
"The ads on KPOJ, plus the ASE Certifications"
"Long, happy history with you"
"I was told to come to you guys by other customers of yours.  Fantastic service.  Would definitely recommend to others, as well as return myself!"
"Thanks for taking the car to DEQ!  Saves big hassle for me."
"Ken was absolutely amazing!  Each time my husband and I come in, we are floored by the professional attention we receive.  We love the consultations you give, the records you keep, and the education we receive.  You are running an incredible business!"
"Overall good auto repair experience compared to most.  As a female, I was treated much better!"
"You've kept my Subaru going for 16 years and 215,000 miles."
"Great diagnosis of problem and thorough repairs."
"Cuz Ken and Drew are so sexy."
"I live on Social Security and this car is vital to us.  I am so grateful for the quality of your work and more so because I trust you guys."
"Because you do great work and the people who work there are smart, kind, nice, and thoughtful as well as very professional."
"I thought you were 'too good to be true' from your advertisements.  I had to check it out for myself, and not disappointed."
"620 AM.  620 AM.  620 AM."
"My son's recommendation, who was working for Toyota Group"
"Americans should hope for a health care system that provides the high quality comprehensive care as my car gets with you!"
"You have won my 'Auto Shop For Life' award!"
"Best feedback we've ever had about one of our vehicles.  We didn't feel pushed into any particular repairs, but learned what we can do to improve this car's performance."
"You fixed things I had given up on ever getting fixed!"
"You came in under the estimate, ahead of schedule, and the personnel went above the expected level of courtesy. You guys rock!"
"You were all awesome.  My car had some problems that were very inconsistent and you found the problem."
"Great service- I know I'm in good hands.  It's obvious you care."
"Care and attention to detail."
"Was new to the area.  Did some research online, saw favorable reviews and Tom's response to a dissatisfied customer."
"Really like how Drew explained the brake repair and discussed other car-related questions.  Today was expensive but I feel OK with it because it was done right and by a great company."
"I was able to make an appointment right away, the work was done quickly, people are friendly, and you humor my dad's phone calls!"
"…the most impressive shop I've ever worked with; so honest, articulate, and educational.  See you soon!"
"TDASI was the only mechanic who offered a prioritized list of services."
"Have only used Tom Dwyer for years- honest, respectful, efficient, shuttle service, call with updates… basically you really care about the customer."
"Originally KPOJ and Tom's rants.  Now we're repeat customers because of your top-to-bottom professionalism."
"Best shop in the Metro area"
"It is so refreshing to find a mechanic service that I can trust."
"Everyone from the counter person to the shuttle driver is knowledgeable about car maintenance choices and easy to communicate with."
"Feels comfortable- no TV on the wall to make a racket."
"We trust your work, and you don't up-sell us!"
"Appreciate that you routinely check on maintenance needs (fluids, tires, belts, etc.), and appreciate the honest and straightforward dealing."
"Your quote was hundreds less than the dealer.  I was impressed with your honesty."
"I love your ads on KPOJ.  I come all the way from Hillsboro, and will do so from now on."
"Because you don't push repairs on me that I don't need."
"When you fix something it stays fixed.  Do not have to return again to get it right."
"Ken was a great help dealing with the extended warranty."
"I like your sense of humor."
"Used your company for almost 20 years; never disappointed!"
"I heard your ads on KPOJ and I was impressed by Tom.  I also appreciate your approach to car maintenance, and I intend to continue having my Toyota serviced by you!"
"You all were hands-down the best mechanic experience I've ever had."
"I started because of your KPOJ ads, come back because of your service."
"Your people did believe me that I specifically did not request synthetic oil, and gave me the credit."
"I feel like I finally found THE RIGHT place!"
"Level of expertise/training; reputation for integrity."
"I'm on a limited income but would not take my car anywhere else."
"I'm impressed with the informative explanation of the problem and that you don't pitch for extra service or play the scare tactic used by other shops."
"A friend from the Sierra Club said you ran an ad in support of their campaign to close the Boardman coal plant."
"When other have tried to way overcharge, you've been honest about what's important to fix now and what's not a big deal.  We feel we can trust you, PLUS you've fixed things others couldn't figure out!"
"You do better work for my VW than the manufacturer does!"
"Excellent personnel throughout the organization.  Very adept at delivering bad news."
"Please keep treating people as courteous and respectful as you do.  I never leave feeling ripped off or degraded for being a woman at your shop."
"Accurate estimates, reliability of work; working with me on price to match dealer's price."
"I was desperate to find an honest and competent auto repair shop.  I am sold… and will return!"
"Yelp provided rave reviews of your shop and service."
"Initially because of the KPOJ radio ads; continued because of competitive prices and professional treatment of me and my vehicle."
"Years of positive exchanges and good advice."
"Superior knowledge of vehicle operation and safety; visibly superior facility, safe for employees and safe for environment."
"Honest, competent work with no unnecessary charges."
"We continue to do business with you because your business reflects your politics- ethical!"
"As a female, it is nice to trust mechanics.  I know that I will not be lied to!"
"Friend recommended – best explanation of service I've ever had. I was very impressed."
"You guys are upfront & do an awesome job!"
"The great references on Angie's List"
"I was kept informed throughout the day on progress"
"I finally feel like I have accountability in my repair shop."
"Car performance greatly improved- drove 1000 miles next day to L.A.!"
"Past experience, your people have always been straight forward and courteous. That is hard to find now."
"Tom Dwyer Automotive has been my mechanic since I moved here in 1990, I wouldn't go to or trust anyone else with my car"
"You can handle the tough jobs"
"The shuttle driver was an extremely wonderful person"
"I wanted the job done right!"
"Recommendations from 2 friends who do not know each other"
"You are always reliable, courteous & thorough. You explain things in a non-condescending manner to people who don't have a clue about cars. Thanks"
"When I speak to your Service Advisors about my car, I learn something new about the mechanics of my vehicle. I trust their recommendations"
"Close to us in Sellwood, Trusted in the community"
"Recommended, work is well explained, trust you'll do a good job."
"Because you are completely reliable and you educate me about my car."
"I have always had excellent service & explanations from you."
"Quality work, fair pricing, GREAT customer service."
"Excellent attention to technical detail – worth paying for."
"Best service – great communication with clients."
"Service excellent, employees the greatest, confidence the work will be done right."
"I don't have to have the job done 2-3 times to fix one problem."
"This was first time – recommended by neighbor. We'll see you again!"
"Your reputation. You all were beyond my expectations for friendly, on time service."
"Dealer's service department gets a "no" on most of the above."
"Continued, Consistent, Professional Service"
"Great trustworthy service."
"Competent diagnosis, knowledgeable staff, good parts & fast service"
"I've been a customer since 1989… I trust you guys"
"Love the shuttle, fair deal, service & explanations"
What can we do to improve?
"Hard to imagine.  Thanks for taking such good care of me… always… everyone!"
"It never ceases to amaze me the quality of service you provide, excellent customer support, and consideration.  Reliable and confident customer support.  The service and the quality you provide is just about the only service I trust these days.  THANK YOU ALL!!!"
"More chocolate and less fruit/tart snacks in the bowl.  Better weather.  New President.  Simple stuff…"
"Shot of good whiskey on full payment?" (We do!  We just don't tell the clients.)
"Work miracles!"  (Haven't you noticed?  We do!)
"Get that Bridge finished!" (All finished.  Anything else we can do for you?)
"Lap dancers in the waiting room".  (Can do, Richard.  We'll start rotating our Techs through dance sets soon.  On second thought… NO!)
"Get rid of the Electoral College."  (On it!)
"Free?  Ha ha!"  (No. Ha ha!)
"Can't imagine other than cleaning our kitty boxes daily."  (No.  No, no, no.  No.)
"Paying for car repairs is never fun, but at least with Dwyer I feel like I'm not paying for unnecessary repairs.  The advice I get seems trustworthy."
"Each year you improve your customer service in ways we never thought of.  Please keep up your good work!"
"It means EVERYTHING to me that I trust you to do what's needed and do it with skill.  I appreciate not wondering if you are going to scam me.  And it helps that Tom loves Bernie!"
"Thank you for such sterling service… now do you think you could teach Congress what doing a job means?"
"Keep calm and Dwyer on!"
"Put more chocolate in your candy dish in the lobby.  Seriously, that's the only think I can think of!"
"Keep up the good work- maybe paint the entrance door more attractively?"  (Done and done, Deanna.  Here's a pic…)

"Not a fan of all the Halloween decorations"  (Sorry about that, Gretchen.  We do go all-out for Halloween, but it's just for the one week before.  If you call next year around the end of October, remind us that you're not a fan and we'll make sure to schedule you when our lobby's back to normal.)
"Please don't change anything!  Love your coffee, too."
"Install a TV and have FOX News on all day."  (We hate to ever tell a client no, but no.  No.  No, no, no.  Hell no.  No.)
"Thanks for the Sorrel and Zucchini!" (Our organic vegetable stand, supplied fresh from Tom's garden, will be open for a couple more weeks.  Come by and stock up!  ESPECIALLY on the zucchini!)
"Cold beer" (There's some agitation from the staff for this, but no movement so far.  Will keep you posted.)
"As my kids approach car ownership, I look forward to creating a 'second generation' of Tom Dwyer customers!"
"Get the city to put a stoplight on your corner!"  (On it.  There will be a new stoplight at the corner of 6th and Tenino as part of the Sellwood Bridge project.  Expect it in 2016.)  (9/1/16 update: the traffic light is up, and it's horrible.  We have ways to avoid it… ask us at the front counter)
"Don't let your treat bowl get empty… but you're even on top of that!"
"Foot massage?  Song & Dance team?  No, really, you guys are great, but thanks for asking!"
"Nothing!  I was blown away by the level of service and I will definitely be back!"
"[Ken and Drew] have NEVER made me feel "stupid" as so many shops do to women.
"This is the first time, EVER, that I was given a DNR (Do Not Resuscitate) diagnosis on a car, and a list of resources for making the search for a replacement auto easier.  I will be back!"
"Every time I come, I see where you have made little changes and improvements.  You listen to suggestions, and all is better for it."
"I'll work at trying to come up with something, someday…"
"Free doughnuts and beer!"
"I drive all the way from Depoe Bay, OR, [to use your shop] and I still tell people in Portland about you guys."
"Maintain your wonderful level of honesty, work ethic- In the environment we live in today I am impressed you guys are able to maintain such high standards."
"Mow my lawn?  Clean my house?  Deliver some groceries?"
"More chocolate in the candy bowl!"
"Determine and share the coming week's winning lottery numbers." (We're doing beta testing on that now.  If we can get a few week's wins under our belt, we'll call with the next week's numbers… from Bermuda.)
"Why not have a few loaner bicycles for clients to get around on? (Stand by, Don.  We're thinking about something along those lines come Spring.)
"More cowbell!"
"Sushi in the waiting room!"
"Still waiting for the donuts!"
"Better chairs in the lobby!"
"Add links to your website like shopping for tires, shopping for a roof rack, shopping for anything car related"  (Good idea… maybe not the website, but look for future articles along these lines in our newsletter)
"I can honestly say that this was probably the best auto repair experience I've ever had!"
"Fix the Sellwood Bridge!"  (We're working on it.  Should be done in 2015/16, and it's open and moving smoothly in the meantime.)
"Instead of getting my car fixed, I'd rather come down and hang around with the staff- kind of like 'Cheers' where everybody knows your name."
"Better candy selection"
"Lower prices!  I don't believe the cost is unfair, I just don't like paying. HaHa!"
"Nada.  Zilch.  Zero."
"Promise me the Sellwood Bridge won't fall into the drink."
"This was my first time with you.  So far, so good!"
"Find a new Progressive radio station to advertise on!" (We did!  We were charter sponsors of the Carl In The Morning Show, Carl's first post-KPOJ home, and now we're sponsors/supporters of XRAY.FM where you can once again catch Carl and Thom over the air!  And we also support KBOO.FM, one of the oldest Progressive stations on the West Coast.  Unfortunately, due to FCC regs we can't run our somewhat "unique" ads on either station.  Sorry!)
"Continue to show that a successful business can be Progressive.  Thank you!"
"Serve wine"
"Indoor pool.  Solar heated, of course."
"Prepaid trip to Hawaii?"
"All of you exude excellence and honesty.  Thank you!"
"You are outstanding!  I've already blabbed about my great experience to everyone on Facebook!"
"Nothing!  Very thorough.  I was not talked down to.  Everything was explained to me in a respectful manner."
"Cookies!"
"Move closer to my house"
"Nothing!  I've been looking for a shop EXACTLY like yours for years!"
"Everything was great.  I drank coffee, used the Internet, and was surprised how reasonable the bill was."
"Get KPOJ to drop Beaver Baseball!" (Ended June 11, 2012, but they'll be back next year.  Sorry.)
"Offer hover conversions" (Probably related to our hovershuttle service)
"Massage chairs"
"Brass band"
"Would be great if you could wash or vacuum my car." (Sorry, but here's why we can't wash your car.)
"Only reason repair was delayed was the mechanic got sick.  That just happens!"
"Don't be so hard on Obama.  He's trying!"
"More Snickers in the candy bowl.  Maybe even a maple bar."
"Pastries."
"Nothing – service was impressive and I felt like there was honesty and trust. Thanks!"
"Your great, you turned a bad experience for me into a joy!"
"Overall it was an excellent experience. Even good magazines. You are my garage from now on!"
"Need nothing more, appreciate the Saturday hours."
"Everything just right. Just don't stop."
"Thank you for going the extra mile by taking my car to DEQ & putting tags on the car."
"Now you take my car through DEQ!! What next?"
"Clone yourselves & move into our neighborhood. Or, take over the repair industry!"
"Nothing ! You guys are the best."
"I like Tom… More Tom!!!"
"Thanks for providing the shuttle service; it only adds to your excellent service."
"How can you improve on excellence?"
"I always know I can trust you with my old Toyota."
"Just continue your honest & upfront way of doing business – it's great!!"
"Nothing – I am one satisfied customer."
"Champagne service in the shuttle van & make Tom wear a little chauffeur suit too!" (Tom doesn't drive the van anymore, but we're working on the suit for him.)
"Lazy-boy vibrating rockers in the waiting area."
"Open more shops around town?"
"Pave your parking lot." (Sorry, but here's why we can't pave the lot)
"Keep up your great work."
"Provide Internet browsing while you wait." (We heard you, and we did it!)