Last month's newsletter brought you news about two big events on the Dwyer June calendar- Ed Schultz' live appearance at the Bagdad, and Phame Academy's production of Once Upon a Mattress.  You probably spent the rest of June saying to yourself "gosh, I wonder what happened?"  Chances are that you've been sitting silently, staring out the window, hungry for information.  Your job's in disarray, your family's leaving you, and your health is fading as you vainly hope for any scrap of news.  Well, we can't leave you hanging like that!  Here's all the dirt about our nights out on the town, so you can get on with your life…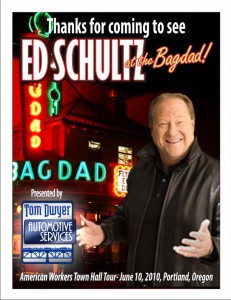 Most Portlanders have spent (or misspent) at least one night at the Bagdad Theater on Hawthorne, and June 10th was Ed Schultz' turn.  Touring in support of his book, "Killer Politics- How Big Money and Bad Politics Are Destroying The Great American Middle Class", Ed hit Portland after a show in Seattle the night before.  As one of the KPOJ representatives said, "Ed's coming into the Bluest venue on the Bluest street in the Bluest city of a Blue state.  He's gotta find a friendly crowd."  And he certainly did.  Ed took the stage with his now-famous "Yooooooo" amid a rousing welcome.  Being in Portland, the Fat Redhead knew what to look for and quicly found it… a minute after he took the stage a cold draft microbrew appeared in his hand.  Suitably outfitted, Ed spent the next hour covering topics critical to the "small people" of the country, from health care and BP to Afghanistan and Obama.  An extended audience open-mike session closed the show.  Wendy and Homey packed the cameras and mikes into a box, and the evening's fun hit the airwaves of Ed's national show the next day.  As the presenting sponsor for Ed's appearance, we had the opportunity to see many of our existing clients and to introduce ourselves to new ones.  Thanks to everyone, both client and potential client alike, for the kind things you said and for your support of our shop!  These events are ALWAYS fun, because we get to hang out with some of the coolest people around, find out what's on their mind, and get some in-depth information on the issues that matter to us all.  If you missed Ed, don't worry.  He's planning another Portland trip soon, and we'll keep you informed when dates are announced.  Shame on you if you miss the next one!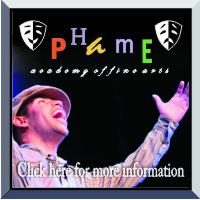 Two days after the curtain closed for Ed it opened for Phame Academy, Portland's drama, music, and art school for people with developmental disabilities.  This year's show was Once Upon a Mattress, the princess-and-the-pea story that marked Carol Burnett's Broadway debut in 1959.  It was the first show under Phame's new creative team of Jessica Dart (director), Ben Landsverk (musical director), and Korie Chung (choreographer), but it easily lived up to the high standards set by Phame over the last 25 years.  Costumes, sets, and props, the work of Phame's students and an army of volunteers, were stunning as usual but it was the enthusiasm of the Phame students that made the show so magnificent.  If theater is about emotion, then this is the best experience any theatergoer could hope for.  Each actor radiated joy and amazed pride as they realized that they had not only shattered the audience's expectations, but opened up new horizons for themselves.  Tom Dwyer Automotive has been involved with Phame for a couple years now, and next year we plan to step up our support by helping to give Phame a little more of the exposure it so richly deserves.  If you'd like to support the mission of Phame, either by giving time or money, you can contact them through their website at www.PhameAcademy.org.  Otherwise, we'll keep you posted on next year's show!