Comment of the Month
Quora is a question-and-answer forum we follow.  It offers lots of qualified (or at least interested and interesting) people commenting on an amazing variety of topics, and it's a fascinating resource we highly recommend.  This month's Comment is actually our reply to a recent Quora Question-
"Would you rather buy Certified Pre-Owned (CPO) car or a used car and get it inspected yourself?"    
Our Answer:
"The Certified Pre-Owned (CPO) vehicle is usually the better choice because of the warranty that comes with it.  CPO vehicles carry any remaining factory warranty PLUS an additional (usually 1-year) extension from the Dealer.
A private inspection identifies a vehicle's problems but they aren't fixed or warrantied.  On a CPO the Dealer inspected for and identified the problems, addressed them, and is standing behind the vehicle's performance.  The inspection and warranty are only as strong as the Dealer you buy from, but that's a separate issue.
If you're buying a newer vehicle with low miles from a seller you trust, the CPO wouldn't be a make-or-break but the inspection is still critical.
NEVER BUY A USED VEHICLE WITHOUT (at least) HAVING IT INSPECTED FIRST!"
Current Discount Offers
If you've been putting off your celebration of Carwash Coupon season then you've put it off too long.  The Season ends Sep 30.  Don't

worry though, we'll be back next year with more of the most exciting carwash coupons around.  Why don't we just wash your car here?  It's one of the most common questions we get, and there's a very good answer.  Just click here and we'll let Tom himself tell you why…
(offer expired Sep 30, 2017)
End of Summer Postcard Contest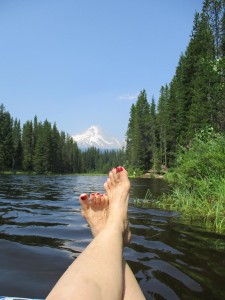 We had two contests going on recently, and both were a little disappointing.  In our Humorousness contest we asked you to send us your ideas for new Scout Merit Badges in the Trumpocracy.  No one entered.  Here in Shop Talk we were running our End-Of-Summer Postcard Contest and did a little better… everyone who entered won!  Of course, that's because we had only one entrant, Cathy J.  (Though we did award a last minute Honorable Mention to the pictures sent to everyone by the Cassini space probe.) On the other hand the picture she sent us (we opened up the contest to include pictures this year) pretty well sums up everything there is to love about summer so we think she's a deserving winner of the $100 cash prize.  Let's all congratulate Cathy and learn a lesson from this… our contests frequently don't have much competition, so when we offer one you should jump on it because you have a very, very good chance to win!  And thanks again to Cathy for entering, and winning, this time!
What are they building across the street?
Sellwood Bridgehead, being built across the street from us at 8222 SE 6th, will be a 119 unit multi-family housing project with 49 underground parking spots.  Though we don't plan to devote as much newsletter space to it as we did the Sellwood Bridge, it is the top topic for questions here at the shop so we'll bring you a couple shots each month as our newest Sellwood neighbor takes shape. This month, the basement excavation is complete and the crews are starting to pour the building's foundations…
Your reviews and referrals matter
We are constantly grateful for the supportive and loyal clients we have developed over the years.  Your comments and appreciation keep us on the right road to providing the superior automotive service you deserve.  Your reviews and referrals are not only the highest compliments we can receive, but they're the lifeblood of our new business.  If you like what you've found at Tom Dwyer Automotive Services, please tell a friend or take a minute to write a review on Yelp, Angieslist, Google, or the review site of your choice. Thank you!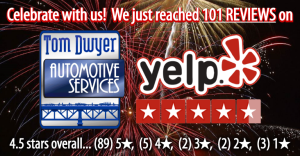 And we have a little something extra to celebrate this month when it comes to reviews and referrals.  We just passed 100 reviews on Yelp a couple weeks ago, and and made it to 101 before we could even tell you about it.  Thank you so much for your continued support!  If you'd like to join the fun, please help us celebrate… your review could be our 102nd on Yelp! (Or 145th on AngiesList, or 35th on Google, or 100th on NextDoor, or…)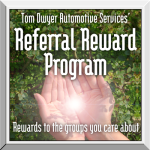 Our Referral Reward Program
Our Referral Reward Program continues to be popular with our clients, and it's certainly popular with the groups we've given to!  Our clients enabled 17 donations for $664 in August/September, bringing us to a total of 425 donations for $19,097 since the program began!  Who gets helped? Here's who got helped in August and September…
BARK Mt. Hood by Camille R.            KBOO Radio by Joe D. and Wynter B.
KHNS Alaska by Brian E.             OPB by Adam C.             ACLU by Bill S.
Sunstone Montessori School by Connie S.    Juvenile Diabetes Research Fndn by Patrick E.
Oregon Food Bank by Melissa W., Phillip C., and Ginny S.           Raphael House by Tina E.
The Sanders Institute (Bernie Sanders) by Mario G.          XRAY.FM by Myron Boyer
Planned Parenthood by Tom B. & Judith R.          Habitat for Humanity by Anne W.
We'd love for you to join us in this giveback to the people making a difference in our world.  Just refer a new client to Tom Dwyer, and if they tell us you referred them (don't worry; we'll ask) then we'll call you to find out which deserving group you'd like to help.  It's just that easy… start referring today!
Latest Automotive Recalls  
Automobiles are just like any other product; occasional flaws in manufacture or design can cause problems once they leave the factory.  When an issue is identified the manufacturers and government work hard to bring the vehicles back in for refit or repair, but not all recalls make the front pages.  The National Highway Traffic Safety Administration maintains a constantly updated list of recalls from every manufacturer.  The last month's recalls are below, but clicking the button at right will take you to the full list at the NHTSA website.