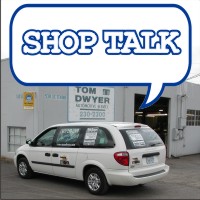 For this month's Shop Talk, we thought we'd let you look over our shoulders at a letter we wrote to one of our clients.  You probably know about the comment cards we leave in each vehicle after service.   (Please fill them out; we actually read them and we care what you have to say!)  In filling out their comment card, this client hit on two of the most frequent comments we get…
Dear XXXXXX,
Thanks for your comments on our Post-Service comment card.  We're glad you to choose us for your vehicle needs, and we hope to continue to earn your loyalty in the future.  Your suggestions for improvement hit on two of the most frequent questions we get: paving the lot and washing the cars.  We've looked at both these issues in the past, and unfortunately there are roadblocks to doing either one.
Our parking lot is actually the end of SE Tenino Street, and the City has no intention of doing anything to improve the street at their cost.  We looked at doing the improvements ourselves, and spent about $5000 getting engineering estimates to improve it to City code.  The cost would have been well over $60,000.00 in drains, sumps, curbs, etc., which is well beyond our capability.  Another complication is the matter of the Sellwood Bridge Project, which could mean changes that would destroy any improvements we made.  Finally, although I definitely see the advantages of a paved lot, I have a contempt for pavement in general. There is too much pavement in the world as it is.  It keeps water from absorbing into the ground, reflects heat back to our already heat-soaked atmosphere, keeps vegetation from acting as a carbon sink, and adds no beauty.
The obstacles to washing cars are a little different.  Because we're so close to the river, we (and the city) closely monitor our discharges.  If we washed more than 7 cars a week we'd have to install capture systems for every drop or risk damaging the environment.  During the summer months when our parking lot is dustiest we offer free coupons for WashMan, because they've already made the investment to do the cleaning right without environmental damage.  Even just vacuuming cars presents problems.  Although we used to vacuum, we stopped out of respect for our client's privacy.  You wouldn't believe the things people leave in their cars, from fragile breakables to money to weapons.  There are also liability and damage issues that outweigh the benefits of a clean carpet.
Although in this case we can't make the changes you suggested, we'd like to thank you for your thoughtful input.  I've enclosed a coupon for one of those environmentally proper carwashes at Washman.  Please enjoy it with my compliments, and remember there's more for you during this year's Free Carwash Season (May through September).  Thank you so much for your continued patronage and support!
Sincerely,
Tom Dwyer