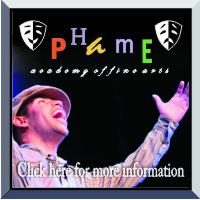 I'm Tom Dwyer
Public speaking is one of our most deep-rooted terrors, so imagine the courage of an actor- standing alone in the spotlight, with hundreds of people watching every move.   Now imagine that actor is blind, or has Downs syndrome, or any of the crippling conditions facing the actors of PHAME Academy… what kind of courage does that require?
PHAME Academy is the only program in the country offering a full art, music, and theater program for people with developmental disabilities. Each year for 26 years they've staged full-scale productions from Titanic to Beauty and the Beast.  The curtain rises on this year's production, Grease, June 18 and 19 at Mt. Hood Community College.  Links to all the details are on our website.
I'd like to extend a special invitation for you to come support Phame Academy, a sparkling jewel of Portland.  If good theater is inspirational, involving, and emotional, then Phame offers some of the best theater ever staged.
By phone at (five oh three, two three oh, twenty three hundred) or online at (tom dwyer dot com) we're Tom Dwyer Automotive Services… trusted to keep your vehicles, safe, breakdown-free and operating at their best!
(c)2011 Tom Dwyer Automotive Services