Comment of the Month
Deanna D. said, "Thanks for the painted door.  It looks nice!"
A painted door might not sound like it deserves "Comment of the Month", but look closer…  a couple months ago we got a Comment Card (perhaps coincidentally from a 'Deanna D.') mentioning that our office door was looking a little shabby.  We painted it a beautiful Dwyer blue and voila, Deanna wrote to say thanks.  The point is that those Comment Cards you get in your front seat after service aren't just junkmail.  We read every one, and we use your suggestions to improve whenever and wherever we can, even on a seemingly small detail like a door that needs painting.  Please, take a minute or two to fill out your Comment Card and tell us what we're doing right, and maybe even more importantly, what we're doing wrong.  It's not a waste of your time… your opinion is VITAL to us!
Now that we're well into 2016, let's see how those Comment Card results were doing as 2015 came to a close.  We're pretty proud of these results, but will do everything we can to see those "Yes" percentages going up even farther this year!
16, 026 Total Comment Cards in count
| | | | |
| --- | --- | --- | --- |
| Question | Yes | No | % |
| Was your vehicle completed within the estimate? | 15836 | 190 | 98.81% |
| Was your vehicle completed on schedule? | 15783 | 242 | 98.48% |
| Did you understand the repairs recommended? | 15975 | 51 | 99.68% |
| Was the work performed explained to you? | 15982 | 44 | 99.72% |
| Were the personnel courteous and professional? | 16008 | 18 | 99.89% |
| Was your vehicle as clean as you left it? | 15939 | 87 | 99.45% |
| Were you satisfied with your service experience? | 15982 | 44 | 99.72% |
| Would you recommend us to a friend? | 15996 | 30 | 99.81% |
Referral Reward Program
We started our Referral Reward Program because Tom wanted a tangible way to say "Thanks!" for your all-important referrals without actually bribing you with things like oil changes.  The program is simple… every time a new client comes in and gives your name as a referral source, we call you and make a donation to the non-profit group of your choice.  The donation isn't huge… it varies from $10-$50 based on the size of the new client's first visit spending (excluding tires, batteries, and oil changes), but those small checks can really add up!  The numbers go up a little more when you include our $200 Quarterly and $500 yearly donations as well!
We're very proud of this unique program, and want to share the good news with you.  Please read this month's Feature article, "Referral Reward Yearly Wrap-up" to learn about the groups we've helped in 2015 and since the program began.  Most importantly, you can also find out how to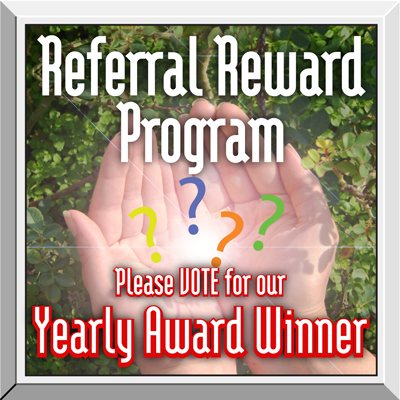 Thank you to everyone for referring your friends and neighbors to our shop.  There can be no higher compliment, and we appreciate the continued support shown by all our clients.  We hope to help one of your friends soon, and we hope you vote in this year's contest!
Your reviews and referrals matter
We are constantly grateful for the supportive and loyal clients we have developed over the years.  Your comments and appreciation keep us on the right road to providing the superior automotive service you deserve.  Your reviews and referrals are not only the highest compliments we can receive, but they're the lifeblood of our new business.  If you like what you've found at Tom Dwyer Automotive Services, please tell a friend or take a minute to write a review on Yelp, Angieslist, Google, or the review site of your choice. Thank you!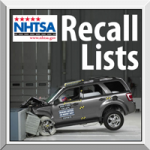 Automobiles are just like any other product; occasional flaws in manufacture or design can cause problems once they leave the factory.  When an issue is identified the manufacturers and government work hard to bring the vehicles back in for refit or repair, but not all recalls make the front pages.  The National Highway Traffic Safety Administration maintains a constantly updated list of recalls from every manufacturer.  The last month's recalls are below, but clicking the button at right will take you to the full list at the NHTSA website.