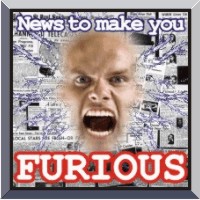 Who, you may ask, is Lanny Breuer?  If you've been following News To Make You Furious lately then you know, but it's hardly a household name.  It should be, though.  Few people have had as big an effect on the justice system, economy, and national future as the inimitable Mr. Breuer.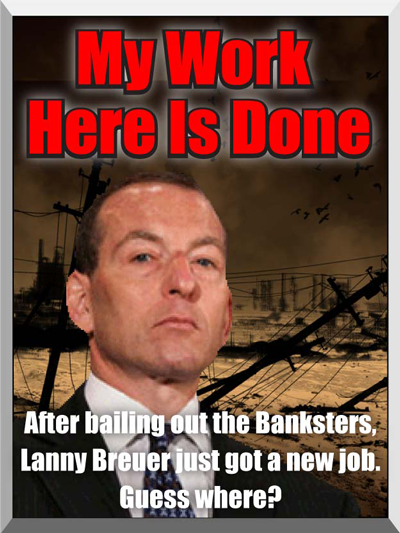 Lanny, until recently, was the Assistant Attorney General and head of the Justice Department's Criminal Division.  Along with his bosses Attorney General Eric Holder and President Barack Obama, he was responsible for investigating and prosecuting people and companies involved in the apocalyptic 2008 banking collapse.
Mr. Breuer, before his stint for the government, worked for Covington & Burling, a law firm specializing in corporate criminal defense.   His experience keeping accused criminals out of jail was somehow thought to qualify him to put them into jail.  But, surprising everyone except the people who picked him for the job, Lanny's years of "effort" have resulted in NO PROSECUTIONS.   Instead, he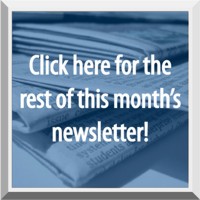 helped make "too big to jail" quasi-official policy.
With the economy destroyed and the plunderers able to relax, Mr. Breuer is ready to move on.  Although most Americans face a job hunt of about 8 months, Lanny's already managed to scrape something together.  Starting July 1, he'll be back at Covington as Vice-Chairman of the firm, (a position created especially for him), making a reported $4 million per year, defending the same people he was supposed to be putting in jail while he was at Justice.
And he doesn't even have the class to be embarrassed.
Want more details?  You're a glutton for punishment, but we're here to help…
Breuer Reflects on Prosecutions That Were, and Weren't-  An Exit Interview with Lanny Breuer by Ben Protess on DealBook
Why I let Wall Street Walk– by David Dayen on Salon.com, (a response to the Dealbook interview)
Why I let Wall Street Walk– Wall Street Job Report (another response to the Dealbook interview)
Lanny Breuer Cashes in After Not Prosecuting Wall Street Execs, Will Receive Approximate Salary of 4 Million Dollars– by Mark Karlin on BuzzFlash
Lanny Breuer Back at Covington & Burling– JDJournal, a legal-industry professional journal
Lanny Breuer and the Immorality of Our Morality– by Michael Tomasky on The Daily Beast
And we've had a couple things to say ourselves about Lanny Breuer.  You may want to catch up on these, if you're not Furious enough already…
News To Make You Furious…
Radio Spots…