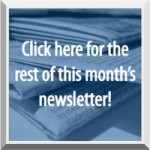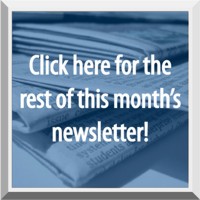 A simple idea guides our approach to auto service…  making clear, prioritized recommendations from a point of full knowledge leads to the best results.   Before our Service Advisors make any recommendations about your vehicle they want to make sure what they offer makes sense. To get the full knowledge we need on our client's vehicles, we created our Inspection For Repair (or IFR, also known as our "Comprehensive Inspection" or "130-point inspection").  Since this is so critical to the level of care you'll receive from us, we think you should know exactly what's in our IFR, when and why we recommend it, and why it's so different from auto maintenance approaches at other shops…
The big picture- Our inspection process
Our goal is to deliver the exact services to meet your individual vehicle's mechanical needs and your ownership goals.  Experience has shown us a rational, consistent inspection program is the best way to do that.  Bad inspections are more than just useless-  they can be expensive if they prompt you to spend money on a vehicle that's beyond repair, or even dangerous if you have false peace of mind about a critical system that's actually about to fail.  We have developed our unique, proprietary inspection processes through over 30 years of use and refinement with the sole purpose of providing you the complete and accurate information you need to drive more safely and confidently, and get the most value from your vehicle maintenance dollars.
The IFR is critical to rational vehicle care, but it's designed to work in conjunction with other periodic inspections of various depths.  We'll focus on the IFR in this article, but please click below for information on our…
An IFR is our deepest, most thorough evaluation
The IFR is a thorough, 130-point physical examination and evaluation of all the reasonably accessible systems of your vehicle.  It also includes a vehicle road test, service history review, and Technical Service Bulletin and Recall search.  The inspection portion alone requires well over an hour of professional time by an ASE-Certified Technician, and your non-commissioned Service Advisor will commit time as well in evaluating, prioritizing, and estimating the Technician's recommendations.
Plan a full day for the inspection; possibly more if you anticipate repairs or maintenance you might want done.  If you drop off in the morning we can usually have the IFR completed with an evaluation and prioritized recommendations before the end of the day.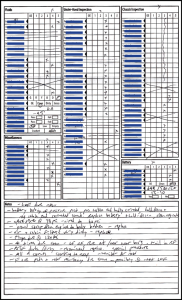 This is the form we use to conduct an IFR.  We've heavily redacted it to protect a few trade secrets and you'll need to click to see a detailed image, but here are some of the high points to notice…
That road test? We think it's a requirement in establishing your vehicle's condition, but it's not a standard part of "inspections" at every shop.
Major vehicle systems are grouped together with all the detailed sub-components underneath.
For the steering and suspension the Technician performs dry-park and physical inspection on the ground as well as a check when it's on the rack
For the brake and friction components we don't think a "peek through the wheels with a flashlight" is enough. We remove the wheels and measure the brake rotors and friction materials, as well as removing and inspecting brake calipers (when pads below 3/32").
The ignition component check includes actually pulling a spark plug to determine condition.
Our coolant check includes a test of your coolant's pH to establish if it's acidic… changing coolants is a classic thing menu services include that may not be actually necessary by mileage alone.
We scan vehicle data streams for possible trouble codes, either stored or pending.
When you're done, you'll have a complete mechanical picture of your vehicle so you can make informed choices to meet your goals based on your ACTUAL VEHICLE NEEDS.  Please ask your Service Advisor to see the results of one of our completed IFRs next time you're by the office, we'll be glad to go over one with you point-by-point.
If your vehicle has less than 60,000 miles and has been reasonably well-maintained, there may not be many recommendations at all.  If it has over 100,000 miles, hasn't been well maintained, or already has problems, you can expect a longer list of recommendations but NOT ALL OF THEM WILL BE EQUALLY IMPORTANT.   One of our greatest values is that we will PRIORITIZE the needed work according to your vehicle ownership goals so you can address the items in a logical order.
What it's not
It's NOT a diagnosis. In some cases it might function as one; for example if an IFR finds a vehicle needs new struts as the answer to a chassis noise, then no further diagnosis is needed.  However, if an IFR finds an emission related fault code it will not cover the time needed to diagnose the precise cause of the fault.
It's DOESN'T cover EVERY system. It covers every system that we can logically examine, but some parts like timing belts or head gaskets can't be reliably judged visually or accessed without major work.
It's not a crystal ball. We bring the experience of ASE-Master-Certified Technicians to bear on your vehicle, and we examine and evaluate everything we logically can to give you our best analysis on what's coming up for your vehicle, but we can't predict the future.  Our IFR is not a guarantee that something won't fail on your vehicle.
Why we do it
We recommend an IFR to most new clients to give our Service Advisors a complete mechanical evaluation of the vehicle, allow them to prioritize possible repair and maintenance needs, and develop a vehicle care plan based on the vehicle's actual condition and the client's ownership goals.  We also recommend repeating it often enough to catch developing problems before they become serious.  An IFR once every 12,000-18,000 miles with 90-point inspections in between should be enough for most vehicles.
There are other reasons you might want to know the complete, exact mechanical condition of your vehicle.
You might want to know if it's "worth it" to make an expensive repair. For example, a $5500 engine replacement might make sense on a 10-year-old car if that's all that is needed for safety and reliability, but it might not make sense if the vehicle also needs a $3000 transmission repair and/or $1500 in tires and brakes.
You may be getting the vehicle ready to sell or pass it to a friend or family member and want to know about any potential problems.
Why our method is superior to others
We think mileage-based Service Menus (30k, 60k, 90k services) are a flawed way to care for your vehicle.   Mileage menus were created as a tool to sell canned lists of profitable services without the hard work of physical examination on the service provider's part.  The shop can then sell more (and possibly more important) work after some minimal level of vehicle inspection.  While menus are better than no system at all, they don't take into account what's been done between intervals, nor can they reliably predict things like brake or tire wear, fluid leaks, unusual wear, or other potential failures.
Worse even than menu service from a full-service shop are recommendations from a specialty shop… one that specializes in a particular area like tires, brakes, oil changes, or mufflers.  If a service provider can't work on the complete vehicle or doesn't take the time for proper inspection and records management; how can they offer the precise services needed?  It's easy to find things to sell from a mileage menu, road test, or quick look, but what gets missed?  What might have been needed even more?  Is what's being recommended a priority? Does it make sense to be done now or even at all?  If Brakes and Tires (as an example) are the only services provided at a facility; how will a timing belt or emission repair enter into the balance of determining priorities?  If a shop only sells shocks and struts, they won't be aware or concerned that your transmission is ready to fail.  If a provider only services a portion of the vehicle they can't offer complete advice, but as a full-service shop we care for our client's whole vehicle instead of just selling the few things our shop specializes in.
While we certainly keep factory recommendations and warranty concerns paramount, we skip the menu sales and instead take the time for proper inspection to create a prioritized list of needs and services to review with our clients.  Our Service advisors are not paid sales commission and our technicians are paid by the hour so there is no incentive to sell unnecessary work or to rush things.
This keeps us from selling unnecessary work or having to make additional phone calls to authorize additional work after a menu service has been performed.
Understanding your ownership goals, maintaining complete records, and offering a fresh inspection when needed allows us to keep in touch with your vehicle's changing condition.  Our process takes time, but provides us the ability to prioritize all your needed services far better than a mileage interval service menu or cursory inspection.