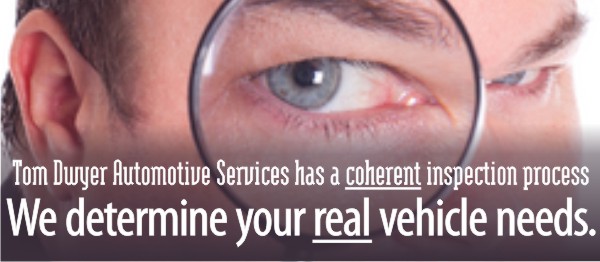 The Auto Repair Industry is full of "free inspections".  "Deals" like free brake inspections, free safety inspections, or the classic "free multipoint inspection" abound.  In most cases these inspections are superficial or otherwise less-than-complete.  Although there are some good inspection processes, for far too many shops inspections are inconsistent once-overs (they may only look for the things they can sell) offered to get you in the door so you can be sold repairs that, even if they're needed, may not be the priorities your vehicle has.
Should you trust a "Free Brake Inspection"?  What if the vehicle is not road tested, the wheels aren't pulled off, the rotors are not measured or the calipers are not inspected?  Can a technician without ASE-certification give you competent advice about your computer control problems?  What kind of in-depth, conscientious evaluation can a technician who is paid flat rate give if he's not being compensated for his inspection time?
We have developed our industry-leading, multi-level inspection processes based on a simple idea:
No one can make intelligent decisions about their vehicle unless they know precise mechanical conditions…
…and a sensible inspection program helps you understand your vehicle's precise needs and priorities.  We have 3 levels of inspection, each designed to play a unique role in mechanical maintenance and upkeep…
130-point Inspection (Comprehensive Inspection)-
Also called our "Inspection-For-Repair", this is our Cadillac-level procedure (no pun intended).  When we're done, you'll have a complete mechanical picture of your vehicle so you can make informed choices to meet your goals based on your ACTUAL VEHICLE NEEDS.  We recommend this inspection to all our New Clients to establish a baseline for their vehicle, and also recommend it be repeated yearly to catch developing problems before they become serious and expensive.  Your vehicle will be assigned to an ASE-Certified or ASE-Master-Certified Technician, who evaluates the following points…
| | | |
| --- | --- | --- |
| Tires | Fluids | Valve Adjust |
| Tread depth FL,FR,RL,RR | Engine Oil/LOF | Timing Belt |
| Tread condition FL,FR,RL,RR | Auto Trans Fluid | Air Filter |
| Tire pressures FL,FR,RL,RR | Man Trans Oil | Fuel Filter |
| | Transfer Oil | Cabin Air Filter |
| Brakes/Axle | Differential Oil F | Spark Plugs |
| Brake Front Calipers/Cylinders- F/R | Differential Oil R | Distributor Cap |
| Brake Linings- F/R | Chassis Lube | Distributor Rotor |
| Wheel Bearings- F/R | Brake Fluid Condition | Ignition Wires |
| Brake drums, rotors | Brake Fluid Level | PCV |
| Brake Master Cylinder | Power Steering Condition | Ignition Coil |
| Brake hoses | Power Steering Level | AC Compressor/Clutch |
| Front CV Boots I/O | Clutch Reservoir Level | |
| Rear CV Boots I/O | Clutch Reservoir Condition | Chassis Inspection |
| CV/Universal Joints F/R | Washer Reservoir Level | Exhaust Main Gasket |
| Rack Boots L/R | Coolant Type (G,R,Y,B,O,P) | Exhaust Manifold |
| Brake percentage FL,FR,RL,RR | Cooland Condition | Header Pipe |
| Drum/rotor FL,FR,RL,RR | Coolant pH | Pre-Catalytic |
| Machine Specifications FL,FR,RL,RR | Coolant Degree | First Pipe |
| Hydraulic hoses  FL,FR,RL,RR | System Pressure test | Catalytic Converter |
| | Cap Pressure test | Second Pipe |
| Road Test | Coolant Overflow Bottle | Muffler/Resonator |
| Bulb check | Coolant Overflow Cap | Tail Pipe |
| MIL/Serv Light | | Hangers |
| Cold start | Miscellaneous | Exhaust Leaks |
| Warm start | Wiper Blades Front | Engine Leaks |
| Idle Quality | Wiper Blades Rear | Transmission Leaks |
| Pre-Ignition | Windshield Cracks | Transfer Leaks |
| Performance | Spare tire | Differential Leaks F/R |
| Brake Response | Spare tire Pressure | Shocks/Struts F |
| Brake Ped Height | Tire tools | Shocks/Struts R |
| Parking Brake | Body | Strut Plate L/R |
| Brake Pull | Paint | Tie Rod Ends |
| Brake Pulse | Glass | Centerlink |
| Align Pull L/R | | Idler Arm |
| Clutch Free Play | Under-Hood Inspection | Ball Joints |
| Clutch Engagement | External Belts | Control Arm Bushing |
| Clutch chatter | Radiator Hoses | Sway Bar Bushing |
| Driveline Vibration | Heater Hoses | Mounts E/TR/TRF |
| Exhaust Noise | Bypass Hose | Clutch Cable |
| Suspension Noise | Radiator/Expansion Tank | Clutch Master |
| CV Noise | Radiator Cap | Clutch Slave |
| Tire Noise | Water Pump | |
| Brake Noise FL,FR,RL,RR | Fan Clutch | Battery |
| Air Conditioning | Electric Fan | Battery/Terminals |
| Defroster F | Thermal Switch | Battery Cables |
| Defroster R | Valve Cover Gaskets | Battery Hold-down |
| Horn | Intake Manifold Gasket | Battery Condition |
| Signals L/R | Oil Pan Gasket | Capacitance |
| Cruise Control | Timing Cover Gasket | Volts |
| Temp Gauge/Light | Head Gasket L/R/1 | |
| Gas Gauge | Power Steering Pump | Check Engine Light |
| Oil Pressure L/G | Power Steering Pressure Hose | Before/after |
90-point Inspection (Basic Inspection)-
This is our first-level inspection; what many other shops typically call an "in-depth or "multipoint" inspection.  An ASE-Certified Technician checks all the major systems of your vehicle that are accessible without taking things apart or using technical tools.  Combined with regular Minor Interval Services and a yearly Comprehensive Inspection, it's a good way to proactively stay on top of your vehicle's needs.
40-Point Inspection (Post-Service Checkout)-
We perform a specific critical systems inspection and double-check our work after every vehicle service, but many of our clients don't even know we do it.  Here are just some of the over 40 key points we check: engine oil and other vital fluid levels are checked (and documented if abnormal) and topped off, under-hood inspection, check and replace any lights or signal bulbs (labor free, in most cases), and check and set tire pressures. We even try to make sure your clock is set right.  Having another set of eyes on your vehicle is just one more opportunity to reduce errors, and another way to ensure that every vehicle that leaves our shop is in its best possible mechanical condition.
Summary
We have developed these unique, proprietary inspection processes through over 30 years of use and refinement. Our goal is to deliver exactly the services you need to meet your individual vehicle needs and goals, and a rational, consistent inspection program is the best way to do that.
Bad inspections are more than just useless- they can be expensive if you buy a used vehicle that is beyond repair, or even dangerous if you have false peace of mind about a critical system that's actually about to go bad. We want to insure that your budget is directed precisely at your priorities. Our inspection and repair process is designed to give you accurate information so you can drive more safely and confidently, and get the most value from your vehicle maintenance dollars.