Let us deliver the service you deserve!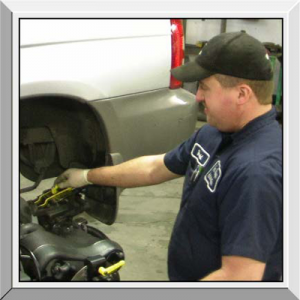 We have intentionally invested a lot more in people, equipment and training than we have in our waiting area. Although we offer a limited number of "while-you-wait" appointments, we would like to discourage clients from taking them as a steady habit.  Why?
For more than 30 years we've improved and refined our procedures for diagnosing vehicles, repairing problems, preventing breakdowns, and making sure all services are done right the first time.  We have procedures to do your work right, and we know how long it takes to do them. Unfortunately, these procedures become difficult or impossible if we are striving to meet a "while-you-wait" appointment window.  We have always intentionally emphasized quality over speed, focusing on prioritized service rather than the industry's "fast food" norm.  We won't ever bend to the "just sell something" model because a steady diet of random quick service hurts the health of your vehicle and your pocketbook.  We won't be a part of that.
We understand the desire to wait for your vehicle to be done so you can get on with your day, and if your vehicle has fewer than 30,000 miles or otherwise is in perfect condition, we might be able to do everything necessary for it in a reasonable will-wait timeframe.  However, we don't want clients to take that as the norm for quality service.  Quality procedures takes time, and we would prefer people give us the time it takes to care for their vehicle properly.
Quick turnaround narrows scope of care
Waiting for a service or repair it can have the same unintended narrowing effect as flat rate pay.  If you're waiting for us to finish then we respect that, so we try to finish as quickly and efficiently as possible.  Looking at your vehicle as a whole takes time, but cutting the time available means we may only be able to look at the specific issue that brought you in.  If we can't pay attention to the rest of the vehicle then our value to you is minimized.  Tom's frequent question "Would you want your surgeon trying to beat flat rate time to make more money?" could also be put as "Would you want your doctor rushing your procedure to have you at school to pick up the kids?"
Even the most fundamental service we provide, our Minor Interval Service, changes when a client is waiting.  Most people don't want to wait two hours for what they assume is "a simple oil change", but even our "oil change" is not so simple.  (Please see our flyer, "What's in our Minor Interval Service?").  We include a 90-point Minor Inspection (not our full Comprehensive Inspection, but a good look at your vehicle's main trouble points) as part of our Service.   We do not do this inspection for clients that are waiting.  When you choose to wait you'll still get the road test, oil change, fluid checks, check of items we've noted in your file, and the post service Courtesy Check, but that's all we can do for while-you-wait service interval appointments.  It's still a fantastic value; you get almost an hour of an ASE-Certified technician's time along with the actual oil and filter, but it's an even greater value if you can let us take the time we need.
Waiting for repair work also makes it difficult to respond if the unexpected happens.  A new problem identified, a broken bolt, or missing part from the supplier might not even warrant a call to you if we have your vehicle for the day.  If you're waiting it's a whole different story.  That hour we may have to spend going out for a new part is an hour you didn't plan to wait.  We've found very few clients are happy about spending any unanticipated time with us.
We make it easy to walk away
Since it's so critical to have the necessary time on your vehicle and we don't want you to wait, we try to make it as easy and pleasant as possible to leave it with us.
If you're going to leave your vehicle you'll still need wheels, and we have two options to help you there.  Our Courtesy Shuttle is FREE, and runs by appointment.  Its 5-mile radius of our shop covers all downtown, as far north as I-84, east to I-205, south to Lake Oswego and Oregon City, and west into the edge of Beaverton.  Just drop your vehicle here and we'll take you where you need to be, plus we'll pick you up when your vehicle is ready.  If your vehicle will be with us more than a day then you may want to consider a rental car.  Our special arrangement with Enterprise Rental means we have special rates for vehicles on a daily or weekly basis.  We can have your rental waiting here at the shop when you drop your own vehicle, and when you pick up your vehicle you can just leave the rental with us.  Our Service Advisors can walk you through the whole process.
One other option you might consider, if you are able to do so, is to spend time exploring the options in our own beautiful Sellwood neighborhood.  We have maps that can guide you through the many shops, cafes, and businesses in easy walking distance of our shop.  We are also located on the Springwater Trail, so if you bring your bike in the morning you'll have the day to ride some of the best urban bike trails in the country.  If you've made the decision to leave your vehicle, you might as well turn it into an enjoyable experience!
We'll keep you posted
People worry less when they have reliable information, so our Service Advisors always provide clear, real-time communication on any vehicle issue.  YOU WILL BE CALLED IF ANYTHING UNEXPECTED HAPPENS WITH YOUR VEHICLE REPAIRS!  We never perform work without informed consent because we don't like surprises either! If you have ANY questions about your vehicle just call and they'll make sure you know exactly what's going on.
Spend the time.  You won't regret it.
We think it's better to leave your vehicle, but of course we understand that while-you-wait service is attractive and sometimes may even be necessary in emergencies.  That's why we have, and will continue to have, a few while-you-wait appointment slots each day.   But while we offer this option we encourage you not to take it on a regular basis.  The quality you've come to expect from us comes from craftsmanship, pride in our work, and attention to detail.  We do every repair as quickly as we can, but there is a minimum time for everything.  While-you-wait appointments squeeze that time to the point where we can still do good work, but make it difficult to do our best work.  We want you to have our best, and we think you do too.