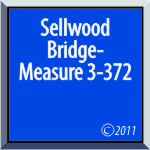 I'm Tom Dwyer
An example of our country's neglected infrastructure is the crumbling Sellwood Bridge just two blocks away from our shop.
Carrying 30 thousand vehicles a day, it's a major link between Clackamas and Washington counties.  The Interstate thirty five W bridge that collapsed in Minnesota in two thousand seven was rated a 50 on the scale of one to a hundred… the Sellwood bridge is rated a 2.
It's long past time to replace it!
Clackamas County stepped up for twenty two million of the replacement expense by adding a small fee to vehicle licenses solely dedicated to construction expense.  This funding is now in jeopardy as the fee increase is being referred to Clackamas voters.
Ballots are out for the special Clackamas county election on May 17.  Voting "YES" on Measure three three seventy two will ensure funding for this critical project.
Please, vote yes on three three seventy two, the Sellwood Bridge Measure!
By phone at (five oh three, two three oh, twenty three hundred) or online at (tom dwyer dot com) we're Tom Dwyer Automotive Services… trusted to keep your vehicles, safe, breakdown-free and operating at their best!
(c)2011 Tom Dwyer Automotive Services