When you're learning about a business for the first time, you're probably a little suspicious of what the company says about itself. What if you could talk with their customers and hear what they have to say? That's why we sent a camera to ask our clients about their experience with Tom Dwyer Automotive. No actors. No scripts. No pay. Just folks like you telling you what they think. Click the pictures below to see any of more than 20 in-depth video interviews, and you'll get a hint about why people keep coming back to see us. Or, click here for a personal on-air radio endorsement KPOJ's Thom Hartmann and Carl Wolfson.

On-Line Reviews
Still not enough? You're a tough customer, my friend, but there is more! Look for our certifications, ratings and reviews on sites like these…
"Wait", you say, "that's just a few people and a couple websites. What if I asked everybody who tried your shop? Bet you wouldn't look so good then!" Fear not, we thought of that too! Since 1998 we've been leaving response cards in every vehicle we work on. Here are the results from the over 16,000 cards we've collected…
Our BAD Reviews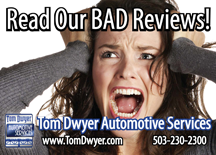 There's still one unsatisfied person in the back there- "C'mon, you're still just showing us the good stuff… NO ONE is perfect!" OK, you're right. We've worked very hard to build our online reputation, and you've just seen stacks of great reviews that back it up. But you're right, no one's perfect and we do get bad reviews occasionally. Whether it's an online review or a comment on one of our post-service feedback cards we take these as opportunities to improve. We first try to identify the person who had the problem and contact them to resolve their issue. Whatever the result, we take their review back into our weekly Service Advisor meetings, examine our processes, and make changes to ensure that, if possible, that particular complaint never happens again.
The good reviews may be what we strive for, but you know the dirty little secret… the bad reviews make the best reading. Here's a link to all the bad reviews we could find on all the rating sites, along with comments from us where appropriate.