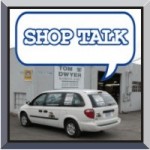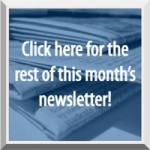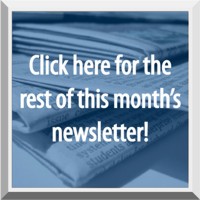 Comment of the Month
For our Comment of the Month this month, we couldn't resist bringing you this one from clients Patty B. and Lynn A. who decided to wax poetic about us…
Tom Dwyer
Is a prior,
As of old…
And from the mold,
A high-up monk
With lots of spunk.
(To have a business
Could cause some duress.)
Honest as the day is long,
He lifts my spirit like a song.
Thank you Tom!
In reply, we can only offer our humbled thanks and ask this question: if you aren't coming to Tom Dwyer for your vehicle service, what poetry are YOU writing about YOUR mechanic?
Referral Reward Program- Monthly Awards!
Our Referral Reward Program is our way of saying "thanks" for your generous referrals… after all, it's people telling people that keeps our doors open!  It's pretty straightforward… when a new client comes in based on your referral, we make a donation to the non-profit group of your choice.  Donations vary from $10 to $50 depending on the new client's initial purchases.  Since we started the program in 2014, our clients have made it possible for us to donate over $17,400 to deserving groups, and that doesn't even include this month's totals!  In April and May (so far) we've been able to make 21 donations totaling $813 to these groups…
Oregon Humane Society by Kathleen M., Matt S., Mary W., Mimi H., and Tim S.
PETA by Trevor M.            American Rivers by Brad G.
Llewellyn School by Vanessa M.            Urban League of Portland by Marisol J.
BARK by Melissa R.            Audobon Society by Rob S.
Community Cycling Center by Erik T.            KBOO Radio by Cynthia S.
American Cancer Society by Phil B.            Rex Foundation by Chris H.
American Bladder Cancer Society by Sara G.            Oregon Food Bank by Margaret R.
OPB Radio by Casey C.            ACLU of Oregon by Mike S.
Southern Poverty Law Center by Kim K.            JOIN PDX by Sarah B.
Take Your Daughter to Tom Dwyer Day!
April 27 was Take Your Child to Work Day. We celebrated by dragging in one of our employee's kids and making her write this article for our newsletter…
by Ivy Letherwood, special embedded reporter at Tom Dwyer
As a 14-year old girl, I may not be qualified to write an article on an automotive repair shop I watched for half a day. No, not even that. I mainly watched the marketing guy, who's my dad, write the company newsletter. Since I am still a student, I am also not quite familiar with automotive terms. With that still in mind, I was tasked with writing a little bit on my experience of 'take your child to work day.' You know, because why not?
While I do joke, I say seriously that Tom's shop is an inviting place for car repair. Although, as I have no past experience with other offices, let alone an automotive shop, in another's eyes I may be wrong. But, from what I could see when employee's answered to clients they were very kind and helpful. Even outside of talking with customers, everyone was thoughtful and cracked a joke now and then; creating a nice energetic environment.
Even though I have little to no experience with work offices, I have had experience seeing the Tom Dwyer tent down at the riverfront summer concerts. Every year Tom's booth is setup every concert with a fun drawing contest for kids. The contest is whoever can draw the best design for the car of the future wins a prize. With the competition engaging kids, the cool music, and the enthusiastic representative there to help, Tom shows that it's possible to make car repair interesting; well, okay, not boring.
But getting back as to why a middle schooler is writing an article, it's 'take your kid to work day.' For kids, a good reason to get out of a little school and maybe hang out with your folks a bit. For parents, a good reason to bond with your child and to possibly teach them some things they can use when they grow up. 'Take the kid to work day' was never a popular date to begin with, but a few years ago it seemed to be something people participated in more. But now no one seems to remember the date at all. In fact, at my school I was the only one in my grade to partake in the "holiday." For what reason I couldn't say, but my guess would be that it's because the date isn't talked about anymore. So, mark your calendars because in 2018 it's April 26th, and it could make for a good story depending on how it goes.
All in all though, I'd day Tom Dwyer's repair shop is a pretty cool place. Their new waiting room is elegantly decorated with the Portland airport's old carpet pattern, and they have nice employees. Also for you candy lovers, there's a sweets bowl by the front desk. In spite of my lack of knowledge on cars I can safely say the people there know what they're doing; and if you have little knowledge like me then a visit over probably wouldn't hurt.
Current Discount Offers

Get a coupon for a FREE WashMan car wash (with minimum purchase)
It's not bad yet, but the coming heat will soon turn our parking lot into a dust factory.  We can't wash all the vehicles we service, so we created Carwash Coupon Season from May through September to make up for it.  CarWash Coupon Season only goes through Sep 15, so act now to get the sparkly vehicle you'll love.  Sorry, but we only give coupons for services exceeding $125 and not for oil changes or other minor services.  So why don't we just wash your car here?  It's one of the most common questions we get, so click here and we'll let Tom himself tell you why…
(offer expires Sep 30, 2017)
Your reviews and referrals matter
We are constantly grateful for the supportive and loyal clients we have developed over the years.  Your comments and appreciation keep us on the right road to providing the superior automotive service you deserve.  Your reviews and referrals are not only the highest compliments we can receive, but they're the lifeblood of our new business.  If you like what you've found at Tom Dwyer Automotive Services, please tell a friend or take a minute to write a review on Yelp, Angieslist, Google, or the review site of your choice. Thank you!
Latest Automotive Recalls  
Automobiles are just like any other product; occasional flaws in manufacture or design can cause problems once they leave the factory.  When an issue is identified the manufacturers and government work hard to bring the vehicles back in for refit or repair, but not all recalls make the front pages.  The National Highway Traffic Safety Administration maintains a constantly updated list of recalls from every manufacturer.  The last month's recalls are below, but clicking the button at right will take you to the full list at the NHTSA website.