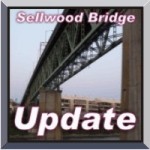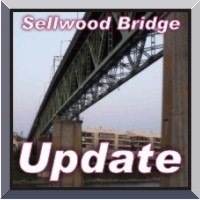 This month we'd like to Update you on some recent closures to the Bridge.  One closure happened just a couple weeks ago, and the other will be happening the last weekend of July 28 to August 1. Inconvenient as they are, they're usually very brief and they indicate another major step to getting the whole project finished.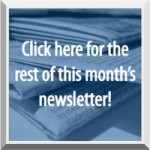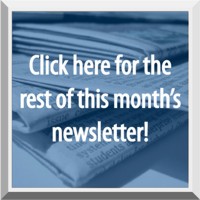 These closures are necessary to patch in a gap in the Bridge caused by the use of the old Bridge as the temporary traffic bridge during construction.  Traffic needed to flow from Tacoma Street onto the old Bridge in its alignment while the new Bridge was being built, so a small "jump bridge" was built that couldn't be disturbed until the new Bridge was ready.  Now that traffic is flowing on the new Bridge, crews could get in to fix the gap.  The first closure happened so the concrete in the supports could cure; the second will happen so they can pave the finished structure.  When they're done, the twisted East End will drive much more smoothly.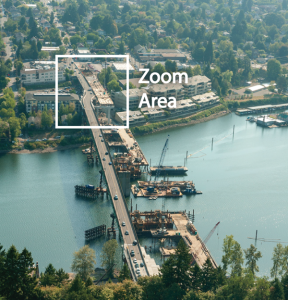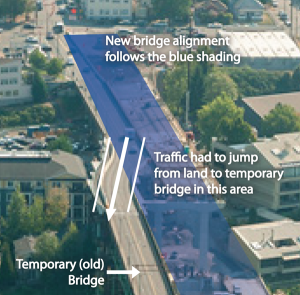 In the meantime, almost all of the old Bridge steel is gone.  The only parts remaining are the pieces on directly on top of the supports, and these will disappear in the next few weeks.  Check out this picture of the view from Sellwood Riverfront Park, or better yet come down and see it for yourself at the Sellwood Concerts!
As always, Multnomah County maintains the definitive website on everything related to the Sellwood Bridge Replacement project, www.sellwoodbridge.org.  Construction and closure alerts, archived information, and other resources are all available 24/7 for your convenience.  If you're looking for something that's not on the website, you can contact Mike Pullen (mike.j.pullen@multco.us, 503-209-4111) or visit www.sellwoodbridge.org