I'm Tom Dwyer,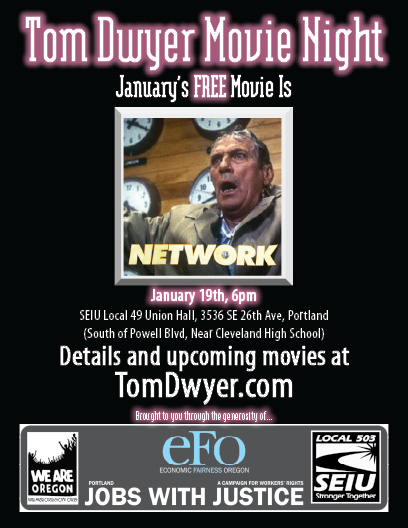 Fresh from the holiday warmth of George Bailey and the Grinch, January's Tom Dwyer Movie Night will take you down a whole new road.
Imagine a world where news and entertainment are so intertwined it's hard to tell the difference.  The classic movie Network follows Howard Beal, a respected news anchor whose ratings are dropping until he decides to commit suicide… on the air.
If you're "mad as hell and you're not going to take it anymore", join us Thursday, January 19th at 6 pm for Tom Dwyer Movie Night, brought to you by S E I U Local 5 0 3, Economic Fairness Oregon, We Are Oregon, and Jobs With Justice.
This month's movie will be at the SEIU Union Hall near Cleveland High School, then return to our usual venue.  Follow the links from our website for full details and a list of our upcoming movies.
By phone at (five oh three, two three oh, twenty three hundred) or online at (tom dwyer dot com) we're Tom Dwyer Automotive Services… trusted to keep your vehicles, safe, breakdown-free and operating at their best!
(c)2011 Tom Dwyer Automotive Services