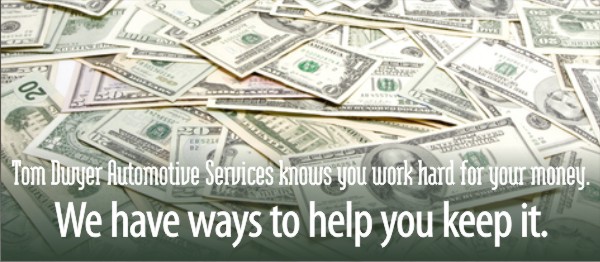 We used to put out several coupons each month, but we decided to stop because it didn't support our mission of clear, coherent vehicle maintenance.  BUT… we also realize that everyone still wants a bargain!  We came up with these ways to let you save a little money intelligently…
Our First-Time Client Offer is the only actual coupon we have.  Since we recommend our Comprehensive Inspection to all new clients to establish a baseline condition for their vehicle, it only made sense to make it as easy as possible for them to start their maintenance relationship with us.  (By the way, if you're referring a new client to us you may want to take advantage of our Referral Rewards Program that will benefit the non-profit group of your choice)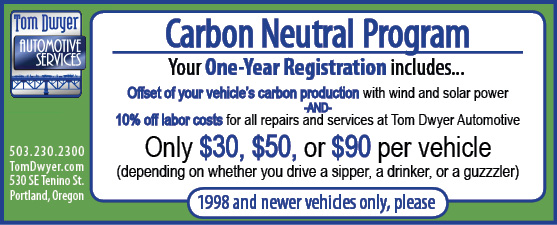 Any client can immediately save money by joining our innovative Carbon Neutral Program, a partnership with Bonneville Environmental Foundation that has already offset more than 1.4 million pounds of carbon from our atmosphere.  Your membership pays for carbon offsets to offset the carbon production of your vehicle for one year.  It also saves you 10% off  labor charges from day one, and more during the year of your membership!
Our Labor Lock program is a way to recognize our valuable long-term clients without requiring them to join a program.  You keep the same hourly labor rate as when you started as a client, despite any labor rate increases we have in the future.  All you have to do is come in at least twice a year.  The longer you're with us, the more money you'll save.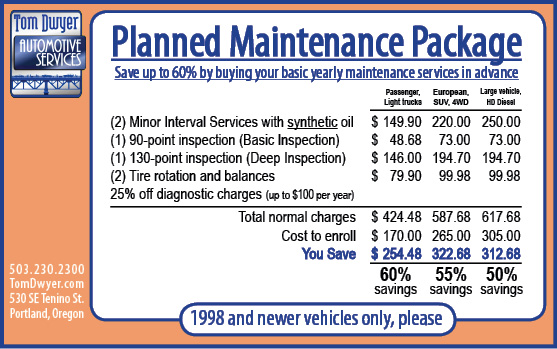 Because steady, coherent maintenance is so important to the life and performance of your vehicle, we designed our Planned Maintenance Package to encourage exactly this type of sensible planning.  You save the most money of any of our four savings programs but, more importantly, because you're committing to the most critical maintenance items you're getting the most value.