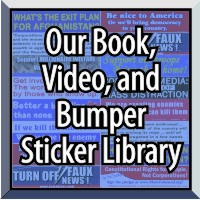 One of the special features of our shop is our famous Book and Bumper Sticker Library.  Although everyone sees it as soon as they come in the lobby, even some of our long-term clients aren't aware that it's a lending library, and that we encourage you to check out anything that strikes your fancy.  The library inventory is constantly changing so you never know just what might be on the plate when you come in, but we promise you enough meat to sink your teeth into. Please take a few minutes to browse through it next time you're in, and if you see something you like here are the lending/giving policies…
Bumper stickers are FREE, with a limit of one per visit.  Also, you must promise to display it proudly.
Books aren't free, but they are available for checkout.  Please sign out your choice at the counter and return it on your next visit.
We even have a few videos!  These are FREE too, with a limit of one per visit.
Our Bumper Sticker Library

Our stock is constantly changing, so these are just representative samples of what you'll find when you actually come in.  By the way, our stickers are MAGNETIC so the price of Free Speech won't include your car's paint.  Did we mention these are FREE?
New

Tom Dwyer

Bumper Stickers!
We've started to produce our own line of bumper stickers with our own messages.  Here are the first two entries in the line, and keep an eye out for more to come…
If you want to tell the world about Tom Dwyer Automotive, we want to help.  We have these attractive magnetic stickers in black, white, and gray…
…and here are just some of the stickers we have from a variety of other sources…
Portland's Bumper Sticker SubCulture
(with a peek inside our own library)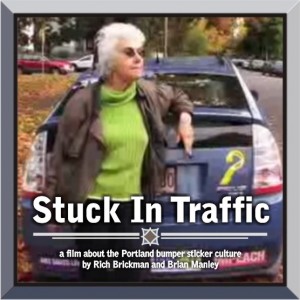 Tom's Book Spotlight

"Book Spotlight" is our newsletter column devoted to books we think you'd particularly enjoy.  Every month we spotlight one of the books from our library that's particularly interesting.  We make it as convenient as possible for you to explore these books… just click the cover for a summary from the Powell's Books website.  You can click here for a full archive of our past picks, but here are the books that shared the spotlight in 2012…