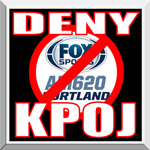 Update 11/21/13- All Oregon radio stations, including KPOJ, are up for license renewal this year.  We created a petition to deny KPOJ's renewal, and will send the signatures to the FCC to go into the station's renewal file.  Read all about it here, or just go here to sign the petition.  Thanks!
Update 3/6/13– Another batch of ratings are in for KPOJ, the new FOX Sports flagship.  How's it going for them?  About as well as it went for the 2012 New York Jets, whose most memorable play of the season was something called the 'Butt Fumble'.
Update 2/11/13– Progressive Radio listeners know Peter B Collins, the longtime radio host. Here's his very inside-baseball look at the collapse of Progressive Talk Radio around the country. It's fascinating, and our thanks to Greg Bye for suggesting it.
Update 2/6/13– Our February Newsletter is out, and we're featuring an
in-depth interview with Carl Wolfson at the end of his first week back behind the mike.
Update 1/30/13– The ratings are in for the "new KPOJ".  How's the switch working for them?  About as well as Mitt Romney's campaign did for him.
Update 12/6/12– The newest newsletter is out!  It got a little delayed so
it's the November/December issue, but it has a very long and detailed article about the KPOJ closure, why we think it happened, what happened here at the shop, and what will happen going forward.
Update 12/11/12– We added this link to the article we wrote when KPOJ
put Beavers Baseball on for the first time.  No one was happy about it at all, but as it turned out there was no need to worry.  KPOJ was completely committed to the Progressive format.
Update 12/13/12- We've been telling people that the KPOJ hosts (and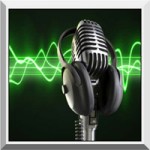 many others) are available for streaming as an option to radio.  We know there are problems with this such as hardware, streaming prices, computer literacy, and more, but it's the best solution we have to offer.  We just realized, though, that we haven't posted links to where you can find these streams and podcasts easily.  Time to fix that oversight…
AM760 out of Denver has the full KPOJ lineup we all miss so much, and each of the individual hosts has their own website.  Although most of their podcasts or livestreams cost money, some of them do have free feeds.  (C'mon, pay for them if you can… most of these guys are struggling and could use your help!)  Below you'll find a partial list of Progressive hosts and links to their sites.  If you know of any we missed just drop us a line at tomdwyer@tomdwyer.com.
Thom Hartmann          Ed Schultz          Randi Rhodes          Norman Goldman
Mike Malloy          Peter B Collins          Alan Colmes          Stephanie Miller
Bill Press          Sam Seder          Mike Papantonio
Plus, any KPOJ listener should know about Amy Goodman and Democracy NOW! as well as Free Speech TV
… and now back to our original page content…
Greetings!
By now you've heard about the KPOJ closure.  We don't have much information beyond what is publicly known, but we created this page to share what we do know with you.  It's pretty bare-bones now, but we'll be adding to it as the situation develops.  You can also go to our Facebook Page for the latest and greatest from the KPOJ/Dwyer audience.  Unsurprisingly, they seem to have a lot to say!
The KPOJ call letters are still there but the programming is not coming back. 620-AM is now a 24-hour feed from Fox Sports.
Station management told us that KPOJ has been losing money for two years and that the decision was a business one, not political.  We find that really difficult to believe, but that's what they said.
The decision was made at a corporate level within ClearChannel, the company that owns KPOJ. (BTW, Bain Capital owns ClearChannel) It's permanent, and protests aren't likely to help.
However, there is a petition circulating at SaveKPOJ.com that we've signed and we encourage you to sign as well.  It may not bring back KPOJ, but it will show interest for anyone looking to start a replacement station.
One of the most interesting things developing around the KPOJ crash is the idea of starting a replacement station.  Portland Coalition of Progressive Community Advertisers and Audiences established a Facebook page on the day of the crash, and the conversation there is all about how to create a grassroots alternative to corporate radio.  (Really, how Progressive can a station be if it's owned by ClearChannel?)
Many people have asked how they can support us and the other KPOJ advertisers. Without KPOJ to get our message out we expect to see a drop in new clients, and we're sure that's the case for the other folks as well. The only thing we can say is that word of mouth is always the best thing for any business.  Please tell your friends about us! Reviews are very helpful as well; if you're active on Yelp or AngiesListyou can tell folks about us through them.  Here is a list of advertisers on the old KPOJ, and we know they'd all appreciate your support…

However, if you WOULD like to make your opinion known there are some options…

KPOJ's Main Switchboard at 503-323-6400, toll free at 866-452-0620, or local at 503-248-0620.  Their address is KPOJ Radio, 13333 SW 68th Parkway, Tigard, OR, 97223
ClearChannel's phone is 210-822-2828 and their address is Clear Channel Corporate, 200 East Basse Road, San Antonio, TX, 78209.

We don't know of any alternative to KPOJ locally. OPB (91.5 FM) and KBOO (90.7 FM) are great, but they fill a different niche than KPOJ did.  When Progressive Radio returns to Portland, you can bet we'll be supporting them.
To stay connected to Progressive radio, streaming is the way to go if you have a computer.  IHeartRadio (although it's a ClearChannel company) and ProgressiveVoices.com will hook you up.
We will publish any more information we get at this site and in our monthly newsletter, Your Car Matters.  The next issue will be our November issue, when we plan to write about the KPOJ debacle in detail.
Our other outlet for information is our Facebook page for Tom Dwyer Automotive Services.  It currently has hundreds of posts on KPOJ, and fascinating discussions of what to do moving forward.  Please 'like' us and share it with your friends!
We really appreciate your support for Progressive Radio in general and our shop in particular.  And one final thing… we were here for many years before KPOJ, and although we'll miss it we'll be here to handle your vehicle needs for many years to come.
Make a great day,
Tom Dwyer
Owner and ASE Master Technician
Tom Dwyer Automotive Services