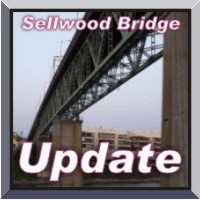 Just a quick update this month…  THEY'VE STARTED!
It's not the major on-land construction yet; in fact, it's probably not even in-water construction because the bridge engineering isn't done yet.  They're probably just gathering the data they'll need to finish the engineering, but there are definitely a signs of life.  But the important thing is THEY ACTUALLY STARTED!  There was drilling during the week of July 5 – 8 in the gravel parking lot on the south side of the Staff Jennings parking lot.  Also, if you look to the north side of the bridge you'll see an in-water drilling rig, which is expected to continue until the last week of July and at times through October.  Drilling can take place between 7:30 am and 5 pm Mondays through Fridays.
In other Bridge news,  the County voted to proceed with the "Shoo Fly" option for building the new bridge.  This will involve building temporary supports about 40′ to the north of the existing bridge, cutting the existing bridge, and moving it to the new supports where it will act as a bypass bridge while the new bridge is constructed.   This will be a much quicker and less expensive option than originally planned, and will save about $5-10 million off the project's $42 million shortfall.  Construction is planned to start in July 2012, although real in-water construction could begin as early as December 2011.
(If you want more details on the ShooFly, check out our Sellwood Bridge Update from April 2011, which includes this video of the ShooFly being implemented in Elkton, OR.)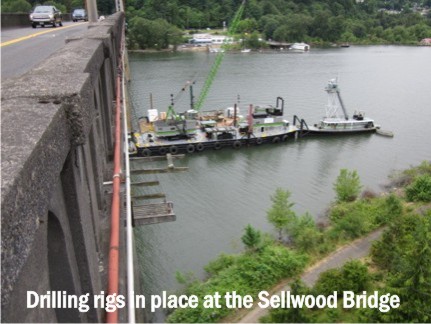 Here are the latest pictures from our crumbly landmark…