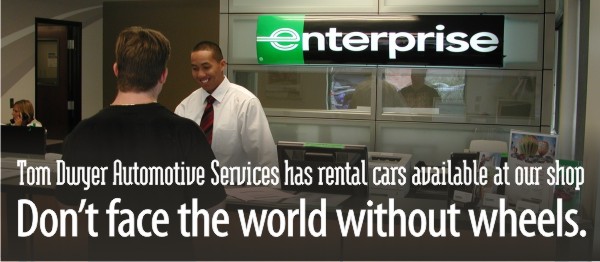 It can be hard facing the world without wheels.  How do you get around town when your vehicle is in the shop?  Asking a friend is great and our Shuttle Service can help, but there's times when you just need your own wheels.  We understand, so we've partnered with Enterprise Rent-a-Car to help keep you mobile.
Of course, as with all things Dwyer, we've added a few features to make it even better…
Our partnership with Enterprise means special pricing for you… most small cars are just $40 A DAY.   You'll want to ask one of our Service Advisors for all the details, but here's the basics…
Please MAKE YOUR RENTAL ARRANGEMENTS WITH US WHEN YOU SCHEDULE YOUR APPOINTMENT.  Don't worry about calling Enterprise… we'll handle all the details.
You'll PICKUP AND DROP OFF YOUR VEHICLE HERE AT THE SHOP, so you won't have to make an extra trip to the Enterprise office.
An Enterprise representative will be waiting here to meet you at pickup so please, it's very important that you be ON TIME FOR YOUR APPOINTMENT.
Your auto policy covers you in rental cars, so we won't pay for any add-on insurance.  However, you may consider paying the $10-$20 extra yourself- in case of an accident, Enterprise will handle everything and there won't be any headaches with your insurance company.