(If you're interested, there's a newer and more complete version of this article at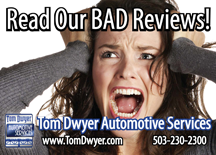 Reviews are the lifeblood of businesses today.  It used to be word of mouth that could kill you, but in the days before the InterTubes it took a while for that word of mouth to spread.  And, there was always a fresh supply of people who would never get the chance to hear the rumors, so an unethical business could sleaze along for years before the bad word got out. Now the buzz (good or bad) is online instantly, lives forever, and can be easily compared to your competitors.
We've worked very hard to build our online reputation, and we have stacks of great reviews to back it up.  But, no one's perfect and we do get bad reviews occasionally.  We don't look at this as a bad thing, though, we look at it as the most direct possible form of communication with our clients.  Whether it's an online review or a comment on one of our post-service feedback cards, we take it as an opportunity to improve.  We first try to identify the person who had the problem (sometimes this is easy, sometimes it's impossible) and contact them to resolve their issue.  Whatever the result with the person, we take their review back into our weekly Service Advisor meetings, examine our processes, and make changes to ensure that, if possible, that particular complaint never happens again.
No matter how good you are things can go wrong, there can be misunderstandings, and even (very rarely) people come in who just don't want to be happy.  When things go wrong for us we do our ABSOLUTE BEST to make it right, but we don't always succeed.  The good reviews may be what we strive for, but you know the dirty little secret… the bad reviews make the best reading.  Here are all the bad reviews we could find on all the rating sites, along with comments from us where appropriate.  Time to exercise those schadenfreude muscles and enjoy our BAD REVIEWS!
Ed. Note– As we wrote this article, it got a little confusing trying to figure out who was saying what.  To make things easier to read, we put each type of response in a different font.  Hope it's helpful.
The reviews themselves are in black regular print
The response we made at the time (if any) is in black italics. 

New comments specifically for this page are in blue italics.
One other thing… if you'd like to check out any of the reviews below in their natural habitat, just click on any of these links…
And now let's get started with the first review in our Bad Review Rogue's Gallery…
CitySearch- "BD195172", 2/7/2011 review- "Recommends"
"Great Service Model. Someone once said, 'It's not the fact that a mistake is made, it's how you deal with it that counts.' Steve at Tom Dwyer has made me a believer in customer service excellence. I had a negative experience and he listened to my grievance, understood the challenges, and gave me viable solutions to resolve the situation. Such customer awareness and excellence deserves five stars! Thanks Steve!"
(7/30/2012- Like he says, we all know things go wrong, so it's important to be prepared when they inevitably do.  We're actually very proud of this review… one of our newest clients came in because of it!  And thanks to BD for being willing to work with us to make things right.)
Yelp- "Megan I.", 7/30/2010 review- "2 Stars (out of 5)"
"I came to this auto shop specifically because of the great ratings on Yelp, and I was incredibly disappointed in the service.  I was having problems with my power steering and my brakes were screeching (they were so bad people on the street were turning to stare at me when I drove by!) Based on the reviews here I was expecting really friendly service, fair pricing, someone to clearly explain the problems with my car to me and to drive away with the car fixed.  Unfortunately, I experienced none of these things.
They weren't rude per-se, but the folks in the office were really stand-offish. My power steering problem was straightforward so I understood that, but I didn't understand what they were saying was wrong with the brakes. Rather than explain it, the guy in the office acted like I was a moron and was really annoyed to have to explain it to me.
I HATE this attitude at auto shops and avoiding it was the reason I ultimately chose this shop. It was really frustrating to be treated this way. After I got my car back — ($1600 later….) the power steering worked great so two stars for that, but the brakes were still screeching.  I took the car back for them to figure out why their expensive repair didn't fix the problem but they couldn't. Instead they just told me over and over that there was nothing wrong with the brakes. I expect to pay a lot for major repairs, so that wasn't a surprise, but I also expect to be treated with respect and for the problem to actually be fixed after I fork over almost 2 grand. Again, really frustrating since I know brakes aren't supposed to screech like that. I'll be taking my business elsewhere for a second opinion on the brakes and wouldn't recommend this second rate auto shop to anyone."
(7/30/2012-  We weren't able to find out who this person was or what went wrong on her visit, so we were never able to reply to her Yelp review. The only thing we could say is that we tried our best then, and if she came back now we'd still try to make things right for her.)
Yelp- "Chris E.", 6/18/2012 review- "2 Stars (out of 5)" 
"Really not sure what rating to give these guys. Would have loved to have given them a try, but they are only servicing vehicles that are 1998 or newer. Never heard of that with any reputable garage. Guess I'll take my '94 Toyota somewhere else. To their credit, they were professional and friendly and did give me some recommendations for other garages, but what a shame that they aren't interesting in assisting any of us with older vehicles."
(7/30/2012- The following is our response to Chris on Yelp, 6/19/2012.  He didn't revise his rating, but this answer is still there for anyone else who is disappointed in our '1998 and newer" policy)
I'm sorry you're disappointed at our older vehicle policy, but it's nothing personal…it's been our policy for many years not to start NEW service relationships with clients with older vehicles; currently 1998 or older. We clearly post this on our website, but not everyone sees the website before they call.  If we were actually able to service your vehicle I'm sure you would have given us more than two stars… please let me try to explain why we have this policy, and when you understand why we believe it's in your interest maybe you'll revise your rating…
We have many longstanding clients with older vehicles, and we plan to keep them happy for years to come! We started maintaining those vehicles when they were newer and continued servicing them as they aged. We have relationships with the clients, and everyone is aware of the vehicle's ongoing needs and condition.  We'll continue to service these vehicles, but experience has taught us not to start new client relationships based around older, often challenged vehicles.
There are good reasons for this.  First, we constantly update our training and equipment to match the technology of more recent vehicles. Second, older vehicles can be "houses of cards" due to age, service history, or condition, which can lead to questions if there are problems with the service.
Most importantly, our service is built around trusting, long-term relationships with our clients, and that depends on the quality and condition of the vehicle being serviced.  Most older vehicles are what we call "economically totaled", needing so much work to make them safe or reliable that the cost of repairs exceeds the value of the vehicle.  It doesn't make sense for us to prioritize repairs on vehicles in this situation.  Once we've built a service relationship with a client, they listen to us if there's a glitch, or trust us when we tell them it's time to stop spending on repairs and move on to a different vehicle.  It's impossible to build that kind of relationship around a vehicle that is already worn out.
Coherent maintenance can extend the life of vehicles, but it's rarely worth playing "catch up" to get an older, poorly maintained vehicle running safely and reliably.  We hate saying "no" to potential new clients, but we don't believe in relationships that are not mutually beneficial.  Vehicles will come and go, but a service relationship can last for generations.
If there are folks out there with a vehicle older than 1998, you think it's in good condition, and you just won't part with it, there are options.  For slightly older, good model vehicles with less than 150,000 miles we can do our Comprehensive Inspection ($150.00) to determine the actual needs and conditions of the vehicle. If the vehicle is in a condition we can support then we'll gladly do it.  If not, we'll recommend you to one of the places we trust to handle older vehicles, but we hope you remember us when you trade up to your next vehicle.
Yelp- "Ron Z.", 10/18/2009 review- "3 stars (out of 5)"
"I called Tom Dwyer regarding my 1994 Ford Ranger clutch problem and in the end was informed they only work on 1996 or newer vehicles and wouldn't be able to work on my truck.  I have since learned they only take easier work that has little chance of damaging their perfect rating.  Seems true.  It sure would be nice to have that on their website instead of wasting my time on the phone and asking me all about the problem and then declining the job."
(7/30/2012- Ron and Chris had the same problem… our '1998 and newer' policy. About the only thing we have to add to what we wrote for Chris' review is to point out the way Ron says we dealt with him … we kept him "on the phone asking all about his problem" to give him good directions to a mechanic that could help him even when we knew he wouldn't be our client.  If you call us, you'll always get the same courtesy and respect.)
Yelp- "Curtis l.", 11/21/2011 review- "3 stars (out of 5)" 
"This is an edit to my review from November 2011. I originally gave Tom Dwyer a less than stellar rating because of some problems we had in November after service they performed. Tom yelped a reasonable response to my review, and we later discussed these issues over the phone. Tom offered to resolve the issues, and we came to a fair agreement.  I commend Tom for being willing to discuss the issues, and make a fair offer of resolution. This is well beyond what most service centers would have done. My updated rating is 3 stars, for a less than stellar beginning that was made right in the end. Things do not always work out perfectly, but at least Tom will work with you towards a fair end."
(7/30/2012- Here's another bad review we're very proud of. Even when things go bad we don't want you going home unhappy.  Dealing with people as reasonable as Curtis and BD (above) makes it much easier to work out solutions that are satisfactory to everyone involved.)  
Angie's List- 9/11/2009 review
Work Completed Date:  March 11, 2009      Hire Again: No      Approximate Cost: $250.00
Description Of Work: They replaced the transmission fluid in my car.
Member Comments: (Transcribed from a telephone interview)
I went to them because it was conveniently located and they had a good rating on Angieslist. I felt that they redid the work that had already been done recently by the auto repair shop that I usually go to. I was not satisfied with their service.
Company Response: 
We were sorry and surprised to find that this client had a problem with our service. We do everything we can to protect our 99.7% satisfaction rating, and no one leaves unhappy if we are given the chance to work things out.
Although this work was performed over 7 months ago, we were able to search our records and check into the matter. We started by doing a 90-point inspection of the client's 2002 Jeep. The ASE-Master-Certified Jeep Specialist who did the inspection found dirty transmission fluid that needed to be replaced. We told the client, she authorized the work, we did it, and as far as we knew the client was happy.
There are two points in this review that we take issue with.  First, the client mentioned in the review (although not to us) that "…the work had already been done recently by the auto repair shop that I usually go to." We checked the transmission fluid and documented that it needed replacement. Perhaps the issue was not with the work we did, but that the transmission fluid had been extremely dirty again or may have not been thoroughly flushed by the previous shop. There are several systems available today to flush automatic transmissions and some do work better than others. We don't sell unnecessary work!
Second, this review could mistakenly lead people to believe that we charged $250 for a transmission flush. Actually, it was $76 in parts and $97.35 in labor of a bill that also included the 90-point inspection, pre-service road test, a minor interval service, oil change and lube, resetting the "maintenance required" light, repairing a broken brake light, and a full post-service check and test drive.
Again, there is nothing more important to us than our client's satisfaction. No one leaves unhappy or stays unhappy if we are given the chance to work things out, but we can't fix problems we don't know about. If this client had told us there was a problem and asked for some adjustment, we would have done everything requested to make it right for her. And, even after 7 months, we still will.
(7/30/12- For some reason, the folks at Tribe.net don't like us.  We have six reviews; four of them are five-stars but two of them aren't, as you can see below. All the spelling and grammar mistakes were in the original review.) 
Tribe.net- "Phil", 4/17/2008 review- "2 stars (out of 5)"
I read the tribe ratings after hearing several advertisements on KPOJ, and decided that I would go to Tom Dwier, for an inspection and an oil change. What I left the shop with was much more — a spooky encounter with a service manager, who recommended that I not go on long trips, unless I pay more than $2500 for additional repairs, and an $800 whole in my wallet.
I was seduced by Tom Dwier Automotive's website and progressive radio message. When I arrived I was awestruck by all the technical certifications and employee photos on the wall. The place looked humble, and the people were very friendly at 7 am. I dropped the car off and took the shuttle back to work, without incident.
A few hours later I get a message to call them, the inspection had been completed. Turns out that my suspension is totally shit struck, I had a bald tire, and I needed a break job, because a caliper is broken and dragging. Now I'm no mechanic, heck, I couldn't pick a break caliper out of a lineup, but that sounded pretty serious, so I had them fix it.
I was then told they had the parts in stock and I could get it done by the end of the day, they would call me. At this time I was also "sold up" on additional services like a break system flush, a cleaning and adjustment on the rear brakes, and a transmission fluid change. My $99.50 inspection and $37.22 oil change had skyrocketed up to $800! They called me two hours before closing, and then told me that something wasn't fitting right and that they would have to keep the car over night. I was upset, but what could I do?
I got dropped off by my girlfriend, to pick up the car, and told her I that I would pay and be meet her at a local pub in a couple of minutes. It seems that I underestimated their respect for a customer's time when I told my girlfriend to go on ahead of me and order me a beer, because I, with credit card in hand, could not simply pay and leave without a lecture in vehicle safety, and a hard sell on the urgency of restoring my entire suspension system to original factory specs (I have a lowered ride), FOR OVER $2000!
They did this as a sales tactic, because once I had my keys I would stop listening and be able to just say "no thanks" while walking toward the door, but I was forced in to justifying my desire to drive a lowered vehicle and given ominous warnings about going elsewhere to get service. All I wanted to do was pay and lick my wounds in a pub with happy hour beer. Thanks to that wind bag I missed happy hour, but still got to pay $800, yea!
The next day I want to Les Schwab, to get a replacement tire, and told the service guy, that I had just come from Tom Dwier Automotive and I was told I needed a new tire and suspension, he said he was glad to do the tire and asked to take a look at the car's suspension. Naturally I approved, and his diagnosis was the same as Tom Dwier Automotive's I needed new front struts, shocks, and springs. The difference was about $900! Not only that he gave me a quote on a break job, and it too was half as much as I paid!
The take-home message here is: if you are a blue-collar guy on a tight budget, avoid this place like the plague, If you are a latte-sipping sipping YUPPE Tom will happily relive you of your burdensome cash. I have to give up my vacation plans this year. I had planned on going to the great American Beer Festival for the first time this year, had I gone to Les Schwab, I could have at least gone camping.
(7/30/12- We really weren't sure what to do with Phil's review.  We don't "upsell" anybody, and the "sales trick" about holding someone until they are mad was news to us.  Anyone who knows us knows that we don't do things like this at all, but we still reviewed Phil's comments in our weekly meeting to make sure our Service Advisors knew how their advice was being interpreted by clients.
We'll finish out this walk down the potholes of Memory Lane with one of our oldest and worst reviews, which still stands out as a favorite.  "J's" Tribe review is below, with Tom's response immediately after.)
Tribe.net- "J", 12/31/2005 review- "1 star (out of 5)"
These hacks are liars.. dont trust them!
Let me tell you about me and myself first, I am a mechanic with over 20yrs experience, that said.. I had a car for sale and my prospect wanted a pre-purchase inspection done. Ok no problem so he chose this place. 2 weeks prior to me selling the car I had just got done putting a brand new clutch in. So this place keeps the car for a few hrs and tells me right to my face the car passed, I am thinking great! My prospect calls me an hr later with what the shop told him. The shop said the brakes were shot, the clutch was going out and the trans was bad, all lies and they wanted something to the tune of $1,200 for "future" repairs. This was all bold face lies because another prospect took the same car to a different shop in LO and they passed it with flying colors. Hacks at Tom Dwyer, yes dont go there, there filthy liars! – J , posted 12/31/05
We protect our customers from unethical car dealers
A real customer alerted us to the rating posted by "J". Thank you for the heads up.  "J" is not one of our customers! Never has been never will be. I looked at his bio etc. What a guy! "J" Sells used cars for a living and after reading his information I'm hoping that others will see the truth in this story. After inspecting "J's" vehicle for sale (for profit), we advised our customer to decline purchasing his vehicle. We ruined "J's" car sale to the "prospect" he had in his sights. SORRY "J", oh and by the way do you have a dealer's license?  I assure you that the inspection was accurate. Our job is to protect our customers from buying used vehicles that will not deliver good service and economy. I would like to know what shop in LO passed it with flying colors (don't have your pre-purchase inspections done there!). Many details don't add up in "J's" rating. You don't get a clutch, transmission and brakes for $1200.00. We don't give estimates to our customers for repairs on cars that fail pre-purchase inspections. "J" states in his bio that he is 30 years old (bio picture looks even younger). He claims to have 20 years' experience "working on cars". At the age of thirty I'd like to know how you get 20 years of experience "working on" cars, unless riding in cars counts. "Working on cars" and being a professional ASE master technician are not equivalent. We don't employ any 10 year old technicians at my shop. I'm hoping "REAL" Tom Dwyer customers will post feedback to wash "J's" out. Talk to a real Tom Dwyer Automotive client and you will find that we have been delivering impeccable service for 25 years and have a 99.8% customer satisfaction rate.  Take Care and play nice!
STOP THE PRESSES!   STOP THE PRESSES!   STOP THE PRESSES!
(8/13/12- As we were putting the finishing touches on this article, one more bad review hit the e-streets.  He doesn't seem like a client so we won't be able to contact him, and we won't be changing our political outspokenness based on one review, so there's probably not much we'll be able to do with this one.  We also won't be able to respond before the newsletter goes out, so you'll just have to check Yelp to see what we say.)
 Yelp- "Jim C.", 8/13/2012 review- "1 star (out of 5)"
Political agenda has no place in your business.  Go elsewhere.
Edit 8/22/17- Here's an old review from Yelp that we just found.  Yelp occasionally hides reviews behind a "not recommended" firewall for undetermined reasons.  Their algorithm that does this is inexplicable even to them.  They can't tell us how it works or how to bring reviews out from behind it, so we just have to deal with it.  Anyway, this review was hidden when we wrote the article so we felt obligated to share it with you now that we know about it…
Yelp- "Lou F.", 7/16/2013 review- "1 star (out of 5)"
THIS IS A REAL REVIEW! I resent having this filtered (censored twice) by Yelp.
It is strangely similar to another review done in 2008 by a completely different person, so our stories might be indicative of the typical culture of this business.
I heard about this shop on the radio, and saw the great reviews so I had high hopes for them.  The owner likes to wear his politics on his sleeve (which may not be the brightest thing to do to attract customers).
About 9:00 a.m., I brought in my car to be evaluated for basic maintenance.  The car was running rather well, but they offered a 1/2 price "new customer deal" for $75, and I was looking for a garage that was closer to where I lived and worked. I work about five minutes away so they said that their shuttle could pick me up when the car was done.
However, when they were finally done at 4:00 p.m., they said that they would not have the time to pick me up, and that I should call a cab (but they would pay for it).  It was hard to get a cab near rush hour, but I got lucky and a friend at work gave me a lift. the shop closed at 5:00 so I had to hustle. It became apparent that the reason they could offer to pay for the cab was because the proposed bill was for about $2000 – $3000 worth of work.
They wanted to do major work for what amounted to be very minor oil and coolant leaks.  They never even asked me about the severity of the fluid loss, but just assumed that I would perceive that the leaks were bad, or the car was burning oil.  Neither was the case.
They did an oil change WITHOUT my authorization, then charged me more than I'm used to spending at and overfilled the engine with oil. Furthermore, they used my personal oil and filter I had in the trunk of my car, but I also did not authorize them to use it (let alone tell them about it).
A few days later, I had to drive back to their shop and have them drain the excess 1/2 quart of oil.  The owners manual clearly gave the specs, but two people behind the front desk and the mechanic insisted that they were right.  Theyy also insisted that the "MAX" indication on the dipstick meant "full" which is not the case according to the manual.  Full is in between min/max.
When I left the shop on the first day, Drew at the desk said that I should call them if I wanted to authorize the work so that they could order the parts and have them ready. I called back and told them that I did not want to do the work, but they had claimed that they had already ordered the parts and would have to send them back.  At best, that was foolish on their part since they would have no idea in advance which work I would authorize.  At worst, it was a manipulative tactic to make customers feel guilty and spend money there.
The shop may give the impression that their work is meticulous by writing down precise measurements on their evaluation sheets (and thereby making a case for you to spend money based on these minor details). Yet, messing up by overfilling the engine with an additional 1/2 quart of oil is just plain sloppy. If they can't do a simple oil change correctly, (or immediately admit a mistake) then I'm not to keen to trust them to do major work.
I asked for a written estimate, which took them a long time to get together after I arrived at the shop. The estimate was written out in a cluttered and chaotic manner and required a lot of excess time to understand.
They didn't charge me, but I had to come back and get the oil drained without ever receiving an apology, only excuses.
For example: Drew also, told me that the mechanic should be right about the oil level simply because he was a Ford mechanic!  I told him that he should learn to read an owners manual. Sarah at the front desk said that I must have measured the oil on an incline, and not on a flat surface.  Even if that were true, they still used up all five quarts of my oil when they should have saved a 1/2 quart.
In other words, what should have been a simple fix turned out to be an extensive process requiring me to defend my position with at least three individuals.
They also old me I needed rear break work because there was a "lip" on the drums, but the another mechanic said that lip was normal and turning the rear brake drums was not necessary.
There were other things too.
My visit to Tom Dwyer was a colossal waste of time.
Our Response…
7/23/2013  I'm sorry Lou felt his first experience at our shop was a waste.  We invested several hours of professional time before realizing Lou was never going to be satisfied with his experience, and we did not charge a penny for our work.  Despite his opinion we stand behind our work, our actions, and our advice.  I think our other 62 Yelp reviews, the vast majority of which are 5-stars, are more "indicative of the typical culture of this business" than the reviews of any one person.  6 of Lou's 7 other Yelp reviews are all one-star, and two of those were for other auto shops. However, I think the Yelp community deserves a response to the substance of Lou's criticisms…
The "New Customer Deal" Lou mentioned is our Comprehensive Inspection, an in-depth mechanical examination performed by an ASE-Certified technician.  It's not a quick peek with a flashlight; it means road test, in depth; ignition, charging system, cooling system, brake and chassis inspection, fluid inspections, records review… in short doing everything possible to document the vehicle's exact condition before any recommendations are made.  This is a logical step for new clients to establish a baseline condition for their vehicle and to make intelligent decisions about what, if anything needs to be done to it.  This inspection generally takes two or three hours and Lou was informed of an estimated completion time when he dropped his vehicle off.
Our Courtesy Shuttle covers a 5-mile radius of our shop, and we have clients in every direction.  It's not unusual that our shuttle will be picking up clients on one side of town when a client on the other side needs a ride at the same time.   In these cases our standard policy is to arrange a cab at our expense rather than rush our clients or make them wait on us.  Lou wrongly assumed this Cadillac-level treatment was due to the size of his "potential bill" but it's not special treatment at all… this is typical of the service all our clients have come to expect.
We NEVER DO WORK WITHOUT AUTHORIZATION and we did not in Lou's case.  We have a reliable supply of oil and filters, but Lou's review makes it sound like we ransacked his trunk, stole his oil, and then overfilled his vehicle.  Lou asked us to do two things… change his oil using the oil and filter he supplied, and perform our Comprehensive Inspection.  We did those two things and nothing else.  When Drew called Lou to discuss the results of the inspection, Lou said to skip the oil change if we hadn't already done it (which we had).  We did not tell him we had already "ordered parts we would have to send back" because we did not order any parts at all!  We were not going to encourage any repairs in his case and as Lou said, ordering would have been foolish on our part since we would have no idea in advance which work (if any) he would authorize.
Lou spent quite a bit of time in his review (and in our shop) concerned about the fill level of his oil, citing the owner's manual and complaining that "two people behind the front desk and the ASE mechanic insisted that they were right".   When changing the oil on a 181,000-mile vehicle known to leak and consume oil, insuring the oil level is at the full mark is NOT A MISTAKE.  Lou and his owner's manual are correct that an oil level is "OK" (meaning not to add a full quart) anywhere between min and max. Against our recommendation and at Lou's request we did remove a half quart to bring the indicated level to exactly mid-point between min and max.
The final point we need to correct is Lou's "proposed bill for $2000-$3000 worth of work".  Our Comprehensive Inspection of his vehicle revealed a huge list of backlogged maintenance and problems.  We never recommend a catch-up investment into a challenged vehicle, and we would NEVER recommend ANY of our clients pour that kind of money into a vehicle with so little value!  When asked to pick the "most important" things that needed to be fixed, Drew came up with a shorter list prioritizing safety and breakdown items.
We don't get them often, but when we get a bad review we treat it as an opportunity- to make things right with a client, to apologize when appropriate, and learn from our mistakes.  We try to learn something from every negative experience, and one of the things we've learned is that starting a new client relationship based around a challenged vehicle rarely works out.  We don't do unauthorized work; our procedures are designed to prevent it.  We know that we didn't recommend an unreasonable amount of work because it wouldn't have been in Lou's interest or ours to do it.  Our Service Advisors are non-commissioned to prevent exactly this kind of conflict of interest.
Lou has a right to expect service on his terms, and I wish him well finding another shop better able to accommodate his needs.