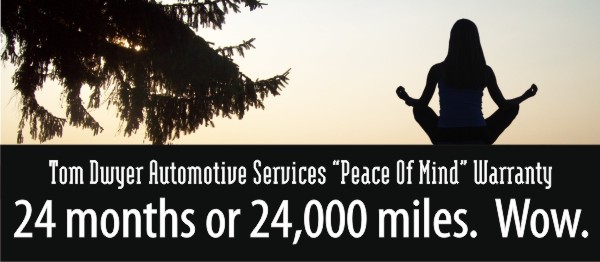 Our warranty is simple: if you're not satisfied, we'll make it right.
While the vast majority of shops offer 12-month, 12,000-mile coverage, and an excellent warranty program may cover 18-months or 18,000-miles, we are so sure of the superior quality of our work that we stand behind it with one of the best warranties available anywhere…
We will

warranty

our parts and workmanship for

24 months or 24,000 miles

, whichever comes first.
It is our privilege to care for you and your vehicle, so we only use the finest quality workmanship and the best parts available. Your total satisfaction is a matter of personal and professional pride to us, and of course we never lose sight of the fact that a satisfied client is our best advertisement. You can be confident that when we return your vehicle we have done everything possible to make sure that you will be back on the road reliably.
If you do have a problem…
Call us at 503-230-2300 and tell us what's happening.
Explain the symptoms your car is showing.
If possible, schedule to bring your vehicle in while the problem is occurring.
Don't worry about bringing your paperwork with you. We have all your records on file.
We will…
Inspect your vehicle and road test it with you if needed.
Deliver you back to home or work.
Analyze the cause of the problem.
Call you to keep you informed.
Repair the problem and get you back on the road again as soon as possible.
If you are out-of-town and have a problem…
Our nationwide warranty service can help.  Call 877-252-4609 and explain what's happening.  They'll refer you to a local shop that will take care of you.
Terms
Tom Dwyer Automotive Services, Inc. will warranty most repairs for 24 months or 24,000 miles from the date/mileage on the client's invoice against defective parts and workmanship, provided the vehicle has been properly driven and maintained according to the manufacturers recommended schedule. This warranty does not cover repairs excluded in writing on repair orders, and excludes friction materials, belts, remanufactured or used parts, or parts not purchased from Tom Dwyer Automotive Services, Inc.  (Used parts are warranted for 30 days, parts only.)  Tom Dwyer Automotive Services, Inc. will warranty only the defective parts or labor and is not liable for incidental damages beyond the defective parts or labor.   This warranty does not apply to commercial vehicles.