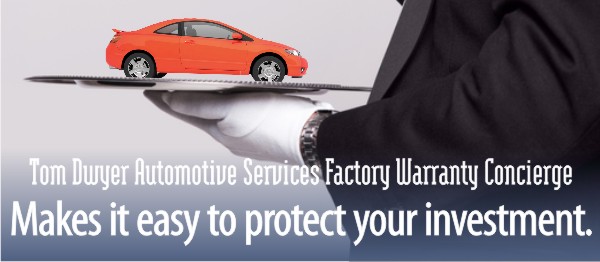 Some of our best clients seem to disappear for years at a time.  Why?  Because they buy a new vehicle, and assume they are required to go to the Dealer for service during their warranty period.  Again we ask, why?  A new vehicle doesn't mean you have to go without our services! There is no legal requirement for Dealer service to maintain warranty coverage.
We go out of our way to make sure you can take full advantage of factory warranties or extended service contracts. Our free Factory Warranty Concierge service means that we handle the Dealer headaches for you. If your vehicle needs to receive work covered under warranty or contract, here's how it works…
Schedule an appointment and drop your vehicle off when you need maintenance service or if you are experiencing a problem.
We

check recalls and technical bulletins

to see if any problems we find are covered under warranty or contract.
We'll

take your vehicle to the Dealer

for them to perform the warranty work.
We'll

act on your behalf and communicate with the Dealer

to make sure they do everything your warranty requires and make sure you are not charged for covered work.
We'll

bring your vehicle back to our shop

to make sure their work was done right, and then put it through our own Post-Service check.
We'll

call you when everything's done

, then come

pick you up if needed

.
You and your vehicle are reunited and drive off happily.
Did we mention this service is FREE?
Don't cheat yourself of the superior automotive care you deserve just because you have a new vehicle. We see clients return to us when their newish vehicle has problems that should have been taken care of at no charge under their now-expired warranty coverage. We've also seen clients charged for work that should have been done free under their warranty.  We are the best possible watchdogs for your new vehicle.  Let us deal with any problems on your new vehicle so you know it's being done right!