Hi, I'm Tom Dwyer,
It's a little unusual for a company to have a "politics" section on its website, but then we're not the usual company.  When I started advertising on KPOJ, one of the leading progressive talk stations in the country, it quickly became an outlet for some of my personal grumblings about the state of affairs. Over time my grumblings have become louder, but instead of driving clients away, the response has been positive.  We have clients from across the political spectrum and whether they agree with me or not, they respect the fact that I speak my mind.
I don't think I stand for anything controversial; I'm not a Republican OR a Democrat.  I believe in government that works for the poor, middle class and the wealthy. I want a society that cares for the commons and its members, and in the basic principles of accountability, freedom, and rule of law that people have died for for over two centuries.   I believe that corporations should not have the rights of people and that they have far too much control over our society. We do better as a country when everyone plays by the same rules.
We're frequently asked if everyone at the shop agrees with the stands I take.  The answer is no, but there is broad agreement with most of the basics.  Our shop is not a political indoctrination facility for employees
or

clients; we do not hire people based on their beliefs or decide which cars to service based on what bumper stickers they have.   If Rush Limbaugh lived in Portland, we'd give his vehicle the same care and attention we gave Thom Hartmann when he lived here.
I hope you thumb through some of the resources and the political features below, and whether you agree with my views or not, I hope they give you some food for thought.  Left, right or center; there is nothing more important to the continuation of our democracy than the participation of informed, responsible citizens.  Even if you disagree, come on in anyway.  I think you'll like the experience of having your vehicle cared for by a shop with liberal values!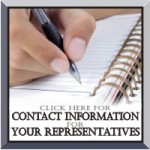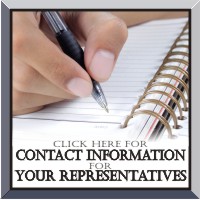 Contact Your Representatives- One of the most important tools for being an active participant in a representative government is knowing how it works and who to talk to.  This link will start you on the road to the sausage factory.  You'll learn how laws are actually made, find tools to contact your representatives, track the status and support of  bills, and much more.
Get Connected- No matter what your particular interest, there is nothing more important to a free and democratic society than the involvement of its citizens.  GET INVOLVED with ANY issue you care about!  We've put together some suggestions for groups that would be glad to put you to work   Did we miss one that matters to you?  Just drop us a line and we'll add it!
Political and News Sites- The Web can be a wealth of information if you take the time to verify what you've learned.  We mostly picked Progressive/Liberal news sites, but there's a couple we mixed in to make the best case possible for the other end of the spectrum (which, oddly, makes the best case for the Progressive end as well).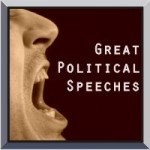 Great Political Speeches- It seems we've been trained not to expect anything better, but a political speech doesn't have to be a poorly stitched together mash of platitudes and half truths.  Some people have expressed great ideas with such simplicity and power that everything after has become a footnote.  This link will take you to some of the most powerful words ever spoken.