Welcome to this pixel-and-digit version of our bricks-and-mortar shop.  We want you to feel as comfortable as possible when you choose Tom Dwyer Automotive, so we hope this lets you get a taste of what you're getting into before you get here.  Check back soon; we'll be adding more detail and information.  Of course, you could just come on down and get the full experience first hand!
Our shop at 530 SE Tenino Street, where we've been since 1981, with our flagship Client Courtesy Shuttle parked out front.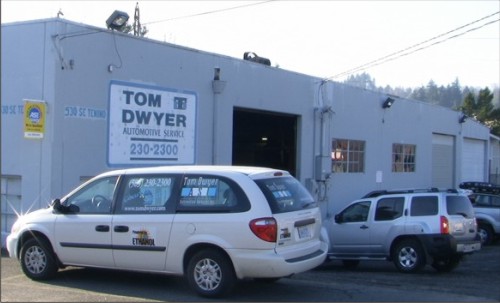 Office and Lobby
Our lobby is comfortable, clean, and full of features like fresh-brewed locally roasted coffee, our famous book-and-bumper-sticker library, and Tom's personal rock collection.  But that's not what will make you feel welcome from the moment you walk through the door.  You'll appreciate the friendly, knowledgeable, SALARIED Service Advisors waiting to serve you.  They'll take time to listen to the problems you're having, explain your vehicle issues clearly,  make service recommendations in YOUR interest, and treat you with the respect and courtesy you deserve.
Ken and Drew at the main counter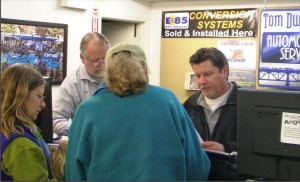 While it's the service that matters most, you'll also appreciate the unique amenities our lobby has to offer.  Our fresh-brewed coffee is hand-roasted by Schondecken in Sellwood, our Book & Bumper Sticker Library is unique anywhere, and Tom's Rock Collection will keep you interested.  If you have any specific questions about our shop or service, our flyers will fill you in.

Main Shop
The main shop is the operating theater for your vehicle's doctors.  We are one of only 9 ASE-Certified automotive shops in the Portland area.  We are also one of the largest independent repair facilities in Portland, maintaining 19 dedicated vehicle bays.  We constantly upgrade our equipment to meet the needs of modern vehicles, and currently utilize over $500,000 of state-of-the-art equipment to serve you.
Panorama showing the front and back shop areas (click for larger image)

Modern vehicles require modern technology to repair and maintain.  We constantly upgrade our equipment and training to provide state-of-the-art service.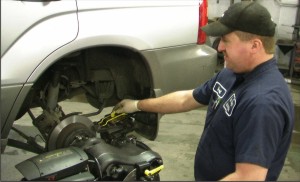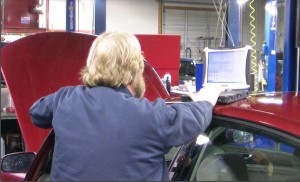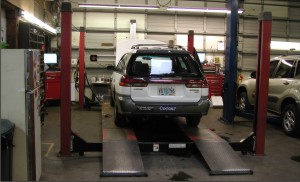 Much of the equipment and procedures we go through aren't necessary to serve your vehicle, but to protect our environment.  Just two examples- our water-based parts washer cleans engine parts with steam instead of solvents, and heat for the shop comes from a furnace fueled by oil recycled from oil changes.

We are one of the few shops anywhere that is currently servicing all-electric vehicles.  As Portland's vehicle fleet switches from internal-combustion to electric, (and the electrics get less ugly) we'll be here to handle your needs.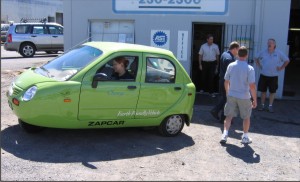 Many clients don't even know about our Post-Service Check process.  Every car serviced at Tom Dwyer Automotive is checked for over 40 critical points.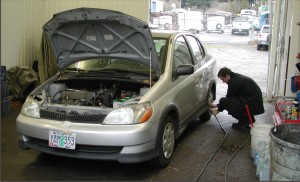 Panorama showing the entire rear shop (click for larger image)