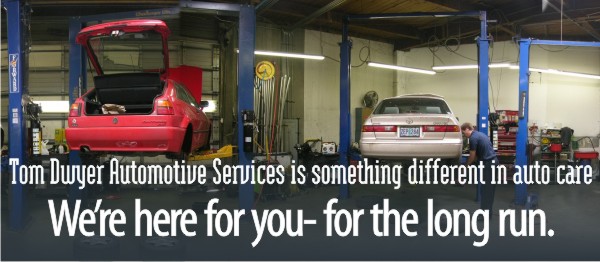 When I opened my own shop in 1981, I set out to be a mechanic people would trust to keep their complex and expensive vehicles operating at their best for the long term.  I started out wo

rking on my own, in my own garage.  Today, our company employs about 20 people in a 22-bay shop utilizing over $500,

000 worth of equipment to maintain and repair your vehicle.  By providing expert repairs, impeccable personal service, and most importantly by respecting our clients, we've built a company that is unique in the automotive repair business.  Caring for our client's vehicles like we would care for our own is a simple philosophy, but it's why our loyal clients have been coming back to us for over 28 years.  When you try our service, we think you'll agree that this is exactly the philosophy you've been looking for in automotive care.
What's the difference between a full-service shop and a specialty shop?
From the time you drop it off until its final post-service checkout, your vehicle is in the hands of top-of-the-line service professionals.   Check out the credentials of the people you'll be trusting with your automotive investment.
Take a look behind the scenes at one of the few ASE Blue Seal of Excellence shops in Portland
We have in-shop brochures to keep you posted on various aspects of our shop and service.  Click here for detailed information on our Environmental Commitment, our Courtesy Shuttle, Business Fleet Services, Carbon Neutral Program, Rental Car Options, what's in our Minor Interval Service, our Electronic Privacy Policy, or Our Shop as a whole.
Here's a great video that tells you what to look for in a professional shop, what to tell your Service Advisor, and what you can do to get the most from your vehicle service experience.