The Inner City Blues Festival hits the stage for the 5th year
The Blues is about pain.  It's about torment and sadness, oppression and hardship, desperation and anguish.  It's about all of that, but it's about hope too. The Blues is about fighting back against the pain, struggling against the oppression, and knowing that no matter how long the road, if you keep walking you'll eventually triumph over the sadness.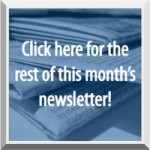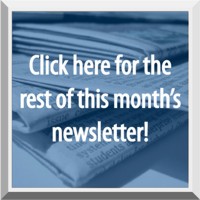 Saturday, April 16, the 5th Annual Inner City Blues Festival hit the stage and the top Blues musicians in the Northwest scorched the room with the hottest Blues you'll ever hear.  But like the music itself, they didn't let anyone stop there.  They called us to fight back, to stand up for a better future, and to walk the road for Single Payer Healthcare in Oregon and across the nation…
While things have improved for millions under Obamacare, expensive and arbitrary health care costs remain a looming shadow across our country.  Individuals know they are only one serious illness away from bankruptcy, and businesses struggle under the burden of overpriced insurance.  No one knows the perils of privatized healthcare better than musicians, who are typically self-employed with very unpredictable income.  Festival headliner Norman "Boogie Cat" Sylvester is a sterling example.  Norman's health care woes came in the form of four hip surgeries costing $92,000 each—something he couldn't have paid for if it wasn't for his wife's health insurance.  Since then, Norman has devoted his extraordinary energy to helping people without health care, even creating an original song for the cause, "Healing the Health Care Blues."
Norman played his original "Healing The Healthcare Blues" and much more when he took the stage at the Festival along with this stellar cast of Blues musicians…
NW Women in Blues with Sonny Hess, Rae Gordon, Vicki Stevens & True Blue Lady Kat
Roseland Hunters with LaRhonda Steele
Terry Robb, Steve Cheseborough, and Tevis Hodge Jr.
The Norman Sylvester Band featuring Shoehorn, "Sweet Thangz" Lenanne Sylvester, and Sarah Billings
Bloco Alegria Brazilian Percussion & Dance Troupe
Augustana Church Jazz Quartet with Marilyn Keller
plus additional appearances from Carl Wolfson, Renee Mitchell, Paul Knauls & the Mad as Hell Doctors.
And if six hours of music weren't enough to have you singing the Healthcare Blues with Norman, there was a silent auction, two cash bars, dinner and dessert for purchase, and Community Village tables to meet event sponsors and community groups.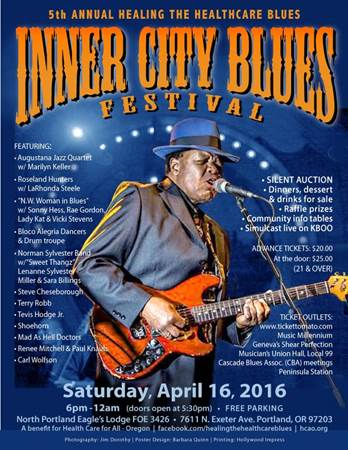 Today's healthcare is a problem, but it's a problem with one clear, obvious, and effective solution… SINGLE PAYER HEALTHCARE!  Health Care for All Oregon (HCAO), the premier group backing single payer healthcare in Oregon and nationwide, will be the beneficiary of the night.  HCAO's mission is to "work for an equitable, affordable, comprehensive, high quality, publicly funded universal health care system serving everyone in Oregon and the United States."  They envision a healthcare system that delivers high-quality healthcare to all, is based on patient needs rather than profits, and focusses on improved medical outcomes.  They believe a publicly financed system like this would direct resources to medical care instead of administrative expenses, profit, and waste. If you feel guilty about just going out and wallowing in the Blues, supporting an organization this vital is just the counterbalance you'll need to feel good!
The Inner City Blues Festival began at the Royal Esquire Club as the "Jam for Jesse", a fundraiser for Jesse Jackson's 1988 presidential bid. For the next 15 years the Festival hit the hottest blues venues in Portland as the cream of Northwest Blues supported a variety of community causes.  The Festival closed in 2003, but reopened in 2012 as a dedicated benefit for Single Payer Healthcare in Oregon.  Tom Dwyer Automotive has been a proud sponsor of the Inner City Blues Festival since that rebirth 5 years ago, and we were there in the Community Village again this year.
Please, make room in your weekend for the 5th Annual Inner City Blues Festival, "Healing the Healthcare Blues".  It's a 21-and-over event happening April 16th from 6p-12a at the Eagles Lodge, 7611 N Exeter Ave in Portland.  Tickets are $25 at the door, and advance tickets are still available for $20.00 through www.tickettomato.com or Music Millennium, Geneva's, CBA meetings, Peninsula Station, and Musician's Union Hall.  See you there!