Unless otherwise noted, all our offers are subject to some standard conditions…  YOU MUST MENTION ANY DISCOUNT WHEN YOU SCHEDULE SERVICE because it is NOT VALID AFTER COMPLETION OF SERVICE.  Unless otherwise noted, OFFERS CANNOT BE COMBINED.
Page last updated 6/30/2017

We created our Referral Reward Program to thank these people for their critical contributions. When a new client tells us they were referred by someone, we call the person they named and make a donation to any non-profit group they choose. We also put all these groups into competition for Quarterly and Yearly awards, and we'd like YOU to help us pick just ONE of these deserving groups to receive a check for $200!
Voting's easy. The list of 46 nominated groups is here and you can call us at 503-230-2300 to tell any of our Service Advisors who your choice is. You can also email your choice to charles@tomdwyer.com. (Please put "quarterly vote" in the subject line). The winner will be announced in our next newsletter, and we'll take your vote right up until publication time. Thanks with your help, and good luck with your choice!

Tom Dwyer Automotive is a Carbon Neutral company, and your CNP Membership means YOU CAN BE CARBON NEUTRAL, TOO!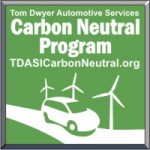 Science warns that the "tipping point" to reverse global warming is around 350ppm (parts per million) of atmospheric carbon, yet we're currently at 407ppm (Apr, 2017).  At Tom Dwyer Automotive we think this calls for more than worry… it calls for action. We take responsibility for our own mess by offsetting the carbon production of our shop down to the test-driving of our clients' cars, making us the only carbon-neutral repair facility in Oregon. Beyond that, we created our one-of-a-kind Carbon Neutral Program (CNP) to let our clients do the same for their vehicles and we've offered discounts to help them to do it. Since we started it in 2007, members of our Carbon Neutral Program have been responsible for removing an amazing 1.776 million pounds of carbon from the air.  Not bad, especially considering that each one of these members was saving 10% on Labor charges for all their services!  This special offer makes it easy to begin driving carbon-neutral as the newest member of our Carbon Neutral Program…
We'll pay 50% of your Carbon Neutral Membership
with $200 minimum purchase!
-OR-
Get a FREE CNP MEMBERSHIP!
with $500 minimum purchase!
Normal CNP Pricing…
Each CNP membership covers one vehicle for one year.  Cost varies by vehicle type because of the number of carbon offsets required.  Hybrid-types are $30, standard cars are $50, and low-mileage guzzlers are $90.
(offer expires 7/7/17)
…and we also have two ongoing offers you may be interested in…
Save 10% on labor charges and drive carbon-free during your one-year membership
We make a donation to the non-profit group YOU care about whenever a new client gives us your name as a referral source
Click here to request an appointment, or just

call us at 503-230-2300

to talk with one of our non-commissioned Service Advisors!