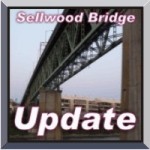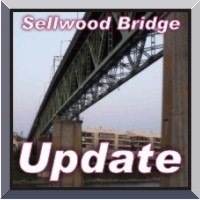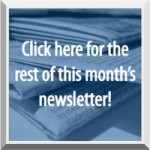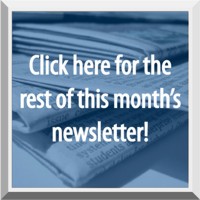 The weather isn't the only thing heating up… construction on the bridge is going strong, too.  This month we'll do a point-by-point of what we know right now…
Traffic slowdowns are starting on Tacoma.  So far, they've been unpredictable, brief, and annoying, but not very serious.  Each time a truck leaves the construction zone on the west side of the river, traffic has to stop on Highway 43 to let them in.  Since there's no way to know when a truck will be ready, there's no way to know when the stoppage will hit.  However, if you get caught in one, it should be over soon.
The lot across from our shop is being prepared to host the construction trailer village.  It was cleared of buildings last month, and there should be a fence around it by August 20 or so.  Eventually, there will be about 24 trailers parked there.  Any impacts on traffic should be small.
The Shoo-Fly (moving the existing bridge out of the way to be the temporary bridge during construction) is the next big thing coming up.  Crews are trying to get it done before Thanksgiving, including adding the on-and-off ramps on each side.  If they can't get it done by November, then they'll have to wait until January- there is a restriction on any construction that would close a traffic lane during the Holiday season.
If you haven't read Tom's Tidbits this month, please do.  We'll do our best to keep you informed and ease any inconvenience you might encounter during this long process.  If you have any suggestions for actions we could take to make life easier, please pass them on to Charles@TomDwyer.com.  In the meantime, we'd like to thank you all for your loyalty, patience, and understanding.
Don't forget …
Multnomah County is set to keep you updated on the bridge construction 24/7.  Their website at SellwoodBridge.org has full project information, archives, and other resources.  Probably the most interesting thing on the site is the cameras set up to cover the new bridge construction.  This link takes you to the live camera, and there's also a time-lapse video that will condense the each day's construction progress into just a few minutes.
…and please check out our gallery of construction images below…