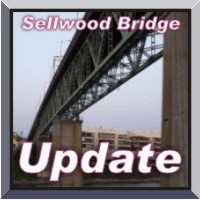 Here's something to be aware of now that boating weather is upon us:  There are construction projects on the river for the new light rail bridge (near OMSI), the east side of Ross Island, and of course at the Sellwood Bridge.  Each area is a posted as "slow speed- no wake" zones, with white buoys directing traffic into the center of the river to bypass the construction.  Violating the no-wake restriction can cost you a hefty $287 and operating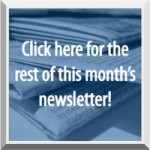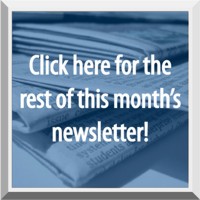 unsafely goes up to $472, so be careful!  The zone around the Portland-Milwaukie light-rail/public transportation bridge runs from about the Hawthorne Bridge to the Marquam Bridge, and the Ross Island zone covers the river on the east side of the island.  The zone around the Sellwood Bridge is the newest, extending 500 feet above and below the construction site.
You may remember last month when we told you  the Bridge construction had become personal for us with the demolition of our next-door-neighbor businesses.  It wasn't quite as quick a process as the crews promised, but the job is done now.  It made quite a change, as you can see from these before and after pictures.  Study them closely… you'll want to be able to recognize us the next time you come by…

Here's a few pics from this month's construction…
…and don't forget …
Multnomah County is set to keep you updated on the bridge construction 24/7.  Their website at SellwoodBridge.org has full project information, archives, and other resources.  Probably the most interesting thing on the site is the cameras set up to cover the new bridge construction.  The link at left takes you to the live camera, and there's also a time-lapse video that will condense the each day's construction progress into just a few minutes.