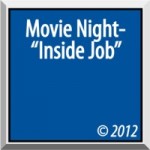 I'm Tom Dwyer,
…and I've really been looking forward to this month's Movie Night.
In two thousand eight, our economic collapse almost destroyed the world's banking system.  Home grown Financial terrorists bilked over twenty trillion dollars from our economy.  Millions lost their homes and retirement savings in the orgy of corruption, greed, and deceit, and the perpetrators have yet to be punished.
"Inside Job" tells the complex story of the theft with enlightening clarity.  You won't like what you learn, but you'll be telling your friends about it for months to come.
Join us Thursday, April 19, and every third Thursday, for Tom Dwyer Free Movie Night, 6 pm at the SEIU Union Hall on the corner of Foster and Holgate.  Made possible by SEIU Local 503, We Are Oregon, Jobs with Justice, and Economic Fairness Oregon.
Please follow the links from our website for full details and more movies you won't want to miss.
By phone at (five oh three, two three oh, twenty three hundred) or online at (tom dwyer dot com) we're Tom Dwyer Automotive Services… trusted to keep your vehicles, safe, breakdown-free and operating at their best!
(c)2012 Tom Dwyer Automotive Services