UPDATE 12/7/12- If you are reading this after Nov 6, 2012, we're sorry but this event is over.  Thanks for your interest!
Doors open at 6pm at the Historic Bob White Theatre, 6423 SE Foster Road.  It's a free evening, free food provided by Tapatio Restaurant, beer and wine for sale, no RSVP required.  Bring friends!
Are you planning on coming to the Bash?  Go to our Facebook Event Page and tell us about it!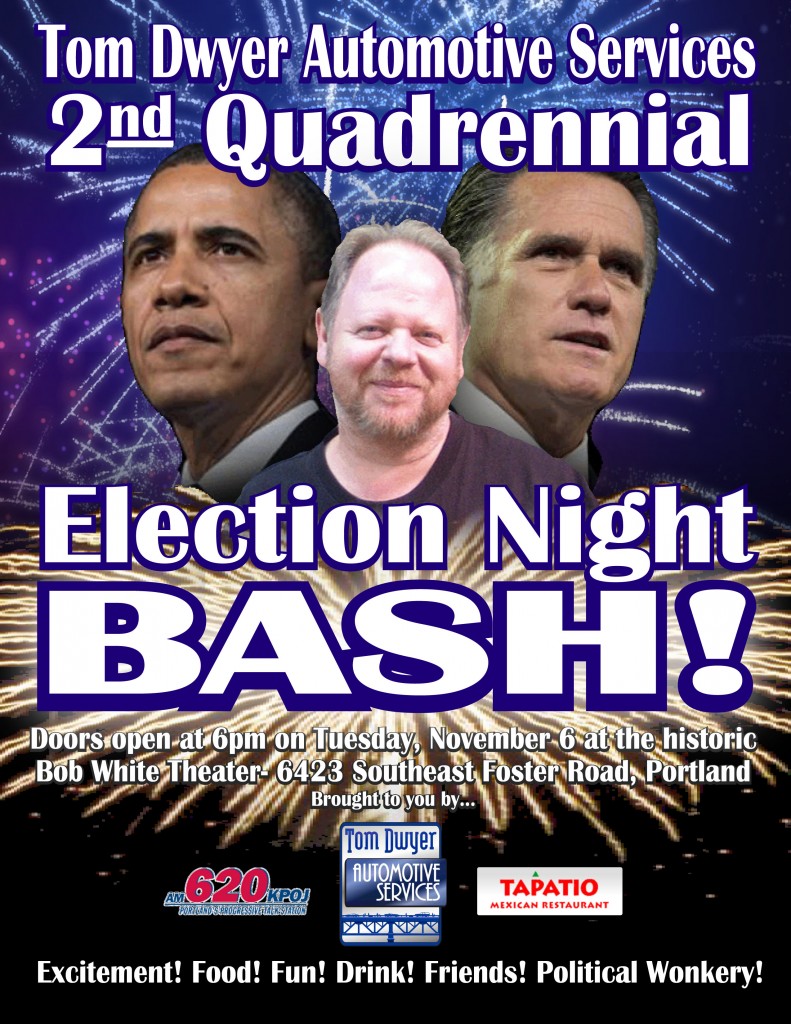 (Update 11/2- Just got the word… there WILL be beer and wine for sale at the BASH!  Don't worry, it's still an all ages show.) 
This is the ONLY place to be on Election Night! KPOJ is joining us to host this evening of suspense, camaraderie, and political wonkery. We'll be gathering at the historic Bob White Theatre at the corner of Foster and Holgate.
The Bob White, built in 1924, has been going through renovations lately. There are still some rough edges, but it's ready and open and has already hosted events like the Portland Pranksters Ball, several concerts, and most recently an evening with Amy Goodman of Democracy Now.
The Bob White has two huge rooms, and we'll be filling both. The first is the theatre itself, which is comparable in size to the Bagdad theatre and the second is a large warehouse room with a bar and stage. This back room will probably be the most popular because it's where you'll find the delicious Mexican cuisine of Tapatio catering, the people who are generously providing the food for the evening.
We plan to have election coverage on large screens in both rooms, so wherever you go you'll be plugged in to the latest info.
One question still unresolved is whether we'll be serving alcohol or not… we'd like to make it an all-ages show, but a beer may make the waiting easier. We'll update you as soon as we know.
There'll be special events happening throughout the night… we'll have prize packages to give away, photo-ops with the candidates (or cardboard stand-ins if they can't make it), and we may even get Tom Dwyer himself up on stage to say a few words. We think there might be other surprises as well, but we can't tell you about those or they wouldn't be surprises… you'll just have to be there to find out.
If you were there for our last Election Party, you know how much fun we had when we rented Greek Cuisina (may she rest in peace) for the evening. We filled the 400-person second floor in the first hour, filled the 350-person lower level soon after, and people were lined up out the door for most of the night. The Bob White is a larger venue so we hope to be able to accommodate everyone, but you should still plan to get there early.   (And there's video from last time- Click here for Election Night Warm Up, here for Tom's Speech Pt.1 and here for Tom's Speech Pt. 2)
One final thing… this isn't an "Obama event", nor is it a "Romney event" either. Yes, we support Barack and since KPOJ is co-hosting you're likely to see a preponderance of Libs in the audience. But it's not a partisan party… it's a celebration of the Election itself. No matter which way the vote shakes out, we are lucky to live in a country where no one is anticipating armed revolution as a result. Cycle after cycle, we hand power from one party to another in a bloodless and relatively orderly manner. It's an amazing phenomenon, and a testament to human rationality, individual freedom, and what we can accomplish when we all come together. It's definitely worth a celebration.
So we hope you plan to be there to count things down with us. Bring your family, bring your friends, even bring that weird uncle whose politics make you cringe, but make your plans now to be at the biggest thing happening on November 6th. It's the party that's twenty syllables of fun, the party that's as much fun as its name…
The 2nd Quadrennial Tom Dwyer Automotive Services Election Night BASH!