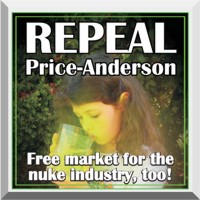 (note 5/8/12- Please click here to download our "Repeal Price-Anderson" poster and share it with your friends.)
Nothing happens without energy.  From our society's addiction to fossil fuels to our body's addiction to food, from our lifestyles to our very lives, we have no choice… we must have energy.   But we do have choices about what kind of energy we use.
What price are we willing to pay for our energy?  What risks are we willing to run to get it?  How do we assign profit and loss for the benefits and costs of our energy?  There are tradeoffs for every energy source, but the downside of nuclear energy is becoming more apparent, more expensive, and more likely.
A website from an automotive repair shop is obviously not the place to go for the full pros and cons of the nuclear industry.  But here are some interesting links on the risks of nuclear power, and how our society handling (or failing to handle) those risks today.
Price Anderson Act-
The Price-Anderson Act caps industry liability for nuclear accidents, places statutes of limitation on claims, and limits citizen's right to sue culpable companies or individuals.  It is the only thing that makes nuclear power remotely viable given the huge expense of reactors and their huge potential liability.
Full text of Caldicott/Bartels Price-Anderson letter (5/20/2011)
The story of the Price-Anderson Act: how Congress made nuclear power financially viable in the U.S. by eliminating accountability for risk by Sean Hecht, May 10, 2011
Price-Anderson Act: The Billion Dollar Bailout for Nuclear Power Mishaps Public Citizen, Sept, 2004
The Price-Anderson Act Background Information American Nuclear Society, November 2005
Fact Sheet on Nuclear Insurance and Disaster Relief Funds US Nuclear Regulatory Commission
Economics of the nuclear industry Physicians for Social Responsibility
Write to Obama to end nuclear subsidies
Current state of our nuclear infrastructure–
America's nuclear reactors are aging, and are experiencing the problems that come with age.  Many were built during the early 70's with design issues that make them obsolete by today's standards.  Reactors that were licensed for 40 years are now applying for (and being granted) 20 years extensions for another.  The Fukushima disaster has also brought home how vulnerable these reactors are to natural disasters, disasters which are threatening two reactors in Nebraska right now.
Half of U.S. nuclear reactors over 30 years old By Steve Hargreaves, March 15, 2011
AP IMPACT: Tritium leaks found at many nuke sites by Jeff Donn, Tue Jun 21

Why is there a Media Blackout on Nuclear Incident at Fort Calhoun in Nebraska? by Patrick Henningsen June 23, 2011
Rumors swirl around state nuclear plants By Algis J. Laukaitis, June 23, 2011 8:54 am
Omaha Public Power Rumor Control (website)
Flooding may affect energy costs Ben Bohall, KVNO News, June 23rd, 2011
Midwest Floods: Both Nebraska Nuke Stations Threatened Rady Ananda, June 16th, 2011
Could Nebraska flooding create a nuclear safety risk? by NBC Universal, 1:07 PM, Jun 23, 2011
What happens if something goes wrong?
As Chernobyl showed, there's not much response to a nuclear disaster except to run away until the danger's gone… anywhere from 50 to 500,000 years.
Evacuation Zones for Nuclear Reactors (interactive map)
Legacy of Chernobyl- Photo essay by Paul Fusco
What are the alternatives?
If nuclear power goes away, we still have problems to deal with.  Where do we get the energy to replace nuclear, and how do we dispose of the nuclear waste we already have?
Fixing America's Nuclear Waste Storage Problem, Robert Alvarez, June 20, 2011
Nuclear-free future for America, Wednesday 22 June 2011 14.30 BST
Germany: Nuclear power plants to close by 2022, 30 May 2011
What's the latest on Fukushima? (12/6/2011)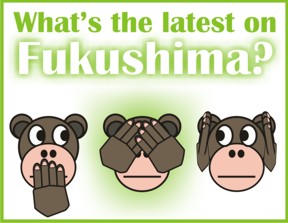 Have you heard ANYTHING on the state of the Fukushima disaster lately?  You know, that little "oopsie" in Japan when an earthquake and tsunami combined to create one of the three largest nuclear disasters in human history? If you're like most people, the only sound you've heard is the chirping of radioactive crickets in the resounding silence of media coverage.  But, there are new developments in the story and there's information to be had if you're curious.  Here are a few links that we recommend to bring you up to speed…
Fukushima Update– Site brings you constantly updated coverage of the Fukushima disaster
There are three recent videos taken by an unmanned aerial vehicle of the damaged reactor buildings.  This link will take you to the first one, where you'll also find links to the other two.
The Washington Post's Chico Harlan took a trip through the restricted zone around the Fukushima plant.  Photos from his trip are here, and a video with Chico's commentary is here.  These images are eerily (and not coincidentally) reminiscent of Paul Fusco's 2006 tour of the Cherobyl disaster area.