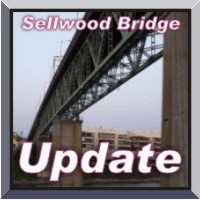 It's been a busy month for the bridge, and there's more on the way.  MoveOn.org and Rebuild The Dream were planning a gathering in support of jobs and investment. When they looked around for examples of desperately neglected infrastructure, guess where they decided to go?  Make plans to be with them, October 16 at 1pm in Sellwood Riverfront Park, to show your support.  (You may even hear a speaker from Tom Dwyer Automotive!)
In other bridge-related news, there HAS been progress…
On September 18, the bridge was closed from 7a to 3p while one crew took concrete samples in preparation for the Shoo-fly bridge move, and another crew optimistically filled potholes.
The Bridge project received an approval Oct 6 from the Multnomah County board that will allow the project to proceed with preliminary in-water work on a detour bridge starting in December.
The problem that won't go away is the remaining $23 million shortfall after the Clackamas County vote in May.  The most likely fix is a grant from the Feds, and county officials are applying now.  Sen. Jeff Merkley's office cautioned that Multnomah County wouldn't be guaranteed to get all the money it needs, because the grants are awarded on a competitive basis.  However, he thinks the bridge replacement project makes a strong case and he is hopeful  that the county will be successful.
And the progress we promised?  It's the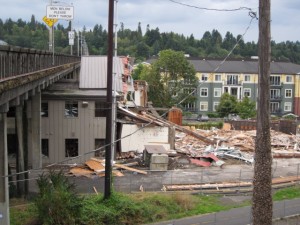 destruction part of the construction, as the first batch of condos on the Northeast side of the bridge are beginning to come down.