It's tax time…FOR SUCKERS!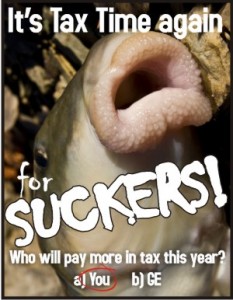 April brings not only the sweet smells of Spring, but the sour stench of taxes.  The "price we pay to live in a civilized society" is coming due again, and it's nice to know that every individual is equal in the eyes of the IRS.  Well, actually, some of our corporate individuals may be more equal than the rest of us.  GE, for example, will pay $0 on a profit of $5.1 billion (in the US alone) and will actually get a "tax benefit" of $3.2 billion.  In 2009, Exxon not only paid nothing on a pretax income of $10.3 billion, but they got a "tax benefit" of $1.1 billion.  As you can imagine, the list continues.  Ready to get Furious?  Just check out a few of the links below about how these companies avoid tax liability, and why you and I will never be able to.
Jon Stewart "Gives Up" trying to understand taxes– the Daily Show, March 28, 2011
5 tricks corporations do to pay less Taxes– Marketing Spot, 13 November, 2010
Ways & Means Chairman Targets Top Tax Rates of 25%– By John Keefe, CBS MoneyWatch, Mar 18, 2011
Companies That Pay a Lower Tax Rate Than You– by Chris Isidore, Yahoo Finance, Feb 11, 2011
Thread: Corporations that don't pay taxes – What is the solution?
GE's corporate tax bill: Zero.  The company didn't pay any US taxes in 2010.  Kim Peterson, MSN Money, Fri, Mar 25, 2011
Do we really have a Progressive Tax System (No). – Robert Plant Bell, Jan 5, 2011
Most Corporations Don't Pay Income Taxes– Richard Rubin, Congressional Quarterly, Tuesday, August 12, 2008,
What The Top U.S. Companies Pay In Taxes– Christopher Helman, Forbes.com, 04.01.10 
ExxonMobil paid no federal income tax in 2009. (Updated) – Ben Armbruster, ThinkProgress, Apr 6th, 2010
GE: 7,000 tax returns, $0 U.S. tax bill– Annalyn Censky, CNN Money, April 16, 2010
Did GE Really Pay No U.S. Taxes in 2010?– Meagan McArdle, The Atlantic, Mar 29 2011
General Electric Pays No Taxes Again – Robert de Neufville, March 30, 2011
Study Tallies Corporations Not Paying Income Tax – Lynnley Browning, NY Times, Published: August 12, 2008
Why Didn't GE Pay Any Taxes Despite Making $5 Billion in Profit? – From The O'Reilly Factor (Believe it or not!) March 25, 2011